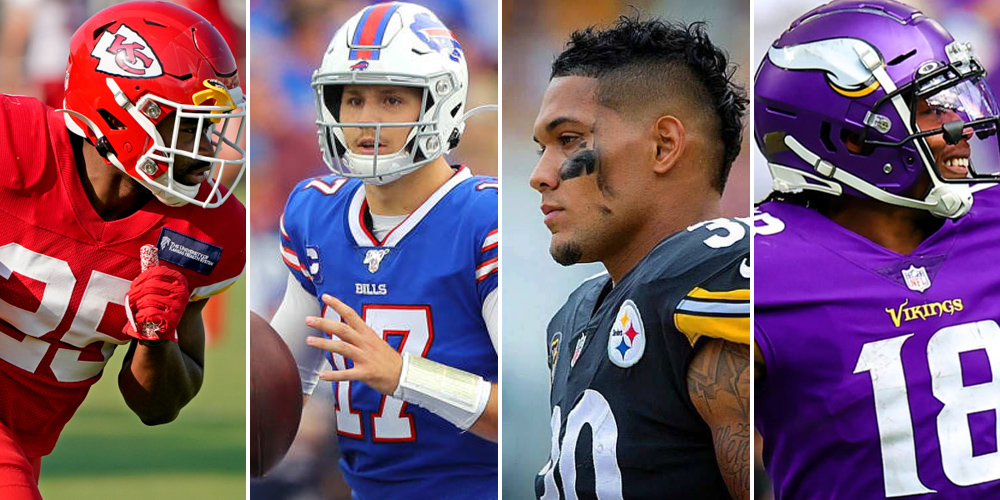 Best and Worst Fantasy Football ADP from the 2020 Season
---
Wow. The 2020 Fantasy Football season is in the books and, with some notable moments of "less than ideal circumstances," it went off with a lot fewer hitches than we feared. I remember discussing not having a Fantasy season at all in some leagues. It was a waste of time to even try because of Covid-19 and some of the calamities we saw in baseball some said. I had leagues where contingencies for refunds or limited rewards were discussed and parameters outlined. All for not. There were some inequities, but they were relatively minor. Lamar Jackson Team Managers got a tough break when he missed a game due to Covid-19. There were others like that, but it wasn't the monkey-wrench mess that we all feared it would be. Major injuries to impact players created more havoc than Covid-19. Christian McCaffery, Saquon Barkley, Joe Mixon, Michael Thomas, Odell Beckham Jr., and Dak Prescott were all early-round draft picks that were more or less useless for the 2020 season. Quarterback is deep enough and Prescott was drafted late enough (49th overall - third quarterback selected) that Fantasy Team Managers were likely able to endure the loss a little more reasonably. The same can probably be said for Michael Thomas and any of the top wide receivers who missed significant time due to injury or otherwise. Both positions are deep enough and have a large enough body of viable alternative options for Team Managers to recover from, but losing a player with a 1.1 Average Draft Position (ADP) like McCaffery or a 1.2 like Barkley is a major body blow to a season at a thin position where bell-cow, high-volume players are dying out like the Dodo Bird. Even Joe Mixon, a talented but perennial disappointment and for many a first pick (ADP of 10.1) to be their RB1, is a loss extremely difficult to overcome. And, unlike McCaffery and as it turned out, to some degree, Barkley, Mixon's "handcuff" wasn't really a solution. Those are some of the bumps and the bruises Fantasy Team Managers had to navigate this season and now is the time to break it down.
The 2020 Fantasy Football season is over so what's next? Draft prep for 2021 of course. Time to review and analyze the results of the 2020 draft season so we can prepare for 2021.
Fantasy Football draft season is probably the most talked about and one of the most exciting parts of one of the more enjoyable hobbies we as Americans have going. Projections and predictions. Player analysis. Values, busts, breakouts, sleepers. All terms we use and phenomenons we discuss endlessly in July and August and now, I plan to review. The Best and Worst players based on Average Draft Position (ADP). The Best and Worst Values based on ADP, the Biggest Busts and Best Bargains and a wrinkle, a look at the "Zero RB Strategy" to see how it worked in 2020 and if it remains a viable team-building strategy in 2021 and beyond. So, let's get after it. The New Year is upon us and with a new year is a new Fantasy Football season. 2021 has begun and it begins by looking back at 2020.
Best and Worst Values by ADP
Average Draft Position is how we rank players before we have on-the-field stats and it's how we evaluate a Fantasy Team Managers drafting prowess for the previous season. How did Clyde Edwards-Helaire ever get drafted in the top six or Marquise Brown get selected ahead of Stefon Diggs? I'll get into those in more detail in the "Biggest Busts and Best Bargains" segment, but for now, it's a look at 2020 ADP's.
I don't have a lot of sympathy for Fantasy Team Managers that draft injury-prone players and then cry about their unfortunate circumstances when that player misses half the season for the third time in five years (Wil Fuller, I'm looking at you kid), but I am not going to label a player a bust if their season turned out to be one because of unforeseeable injuries. I had McCaffery and Barkley on the same keeper league team, so I got hosed, but I can't label them busts and I won't be for players with similar circumstances. My "Best and Worst ADP's for 2020" will be based on how they were projected to perform based on ADP compared to how they actually did. I'm going to employ a "Two Degrees of Separation Approach." I am going to attempt to make a distinction between "Value" and "Busts or Bargains". Some players were good values or bad ones, but they weren't necessarily "Busts" or "Bargains." A bust is a player that was drafted with high expectations and was significantly disappointing based on those expectations. A value is similar only to a lesser degree. I consider Clyde Edwards-Helaire, with a pre-season ADP of #5.9 who finished the season outside the overall top 50 in Fantasy scoring to be a bust. I consider James Robinson, with a pre-season ADP of #152 who finished the 2020 season 14th overall in Fantasy scoring to be one of the Biggest Bargains. A player like Ezekiel Elliot was expected to do great things in 2020 and while he didn't, he was still respectable. He finished 31st in overall Fantasy scoring in PPR formats with over 200 points. Disappointing for certain, but shy of how I define a "Bust." Stefon Diggs is a closer call. He exited draft season with an ADP of #65 and finished the Fantasy football season fifth in overall scoring. That's more than one of the best values, that's one of the best bargains, but it's close. It's difficult to label a player a "Bust" if they finish in the top 50 in Fantasy scoring and it's equally as difficult to label them "A Best Bargain" when they are drafted inside the top 75-100. That's the line I'm trying to walk here. I consider Diggs closer to Zeke than I do Edwards-Helaire, so I am leaning "Best Value" for Diggs, "Worst Value" for Zeke and "Bust" for CEH. A slight distinction. Players like James Robinson and Justin Jefferson are much easier calls. They were drafted late or, in shallower leagues, not at all and turned out to be impact Fantasy players at "flier" or waiver wire prices. They won Fantasy Team Managers leagues purely because of how much of a bargain they were.
It's not as easy to categorize a player as a "Biggest Bust." For a player to be a biggest bust rather than just a bad value they need to not only be disappointing, like Zeke, but they have to be of extremely limited or no value to their Fantasy Teams. Technically, injured players fit this description but I don't think they should be labeled as such. Clyde Edwards-Helaire is close. At best, he was an atrocious value. He had extremely high expectations and fell significantly short, but he wasn't worthless. Where I find justification in labeling CEH a "Biggest Bust" is that at the time Fantasy Team Managers were setting their weekly lineups he was a Flex play each and every week, but in retrospect, that fact hurt Fantasy Team Managers a lot more often than it turned out to be correct. His late-season injury turned out to be a benefit for Fantasy Team Managers in their playoffs, especially when you see how mediocre that Kansas City Chiefs offense was in a few of those games when it mattered. It's safe to assume, in retrospect, that CEH would have been pedestrian or bad as well and that alternative Flex options would have been the better choice. I'll get into more detail when I profile each player.
Best Values by ADP
| | | | | |
| --- | --- | --- | --- | --- |
| 2020 Best Values by ADP (PPR) | 2020 ADP | 2020 Final FF Rank | 2020 Fantasy Points | 2020 Positional Ranking by ADP |
| Stefon Diggs | #65 | #5th | 314 | WR27 |
| Darren Waller | #60 | #12th (Tied) | 251.9 | TE5 |
| Aaron Rodgers | #95 | #5th** | 357.26 | QB10 |
| Josh Allen | #96 | #2nd** | 376.8 | QB11 |
| David Montgomery | #60 | #20th | 236.6 | RB20 |
| Diontae Johnson | #94.3 | #29th | 209.2 | WR29 |
| Calvin Ridley | #38 | #9th | 270.9 | WR9 |
** NOTE**
When listing a Non-Quarterback I used PPR Flex Season Rankings for overall Fantasy scoring in order to exclude quarterbacks due to their high point totals because they crowded the top of the rankings. When ranking quarterbacks I included ALL offensive players.
Stefon Diggs, WR Buffalo Bills
ADP: #65 (WR27)
Fantasy Points: 194 (5th Overall)
I was skeptical of Diggs entering 2020 because I had concerns about Josh Allen's ability to maximize his abilities (another player who appears on one of the good lists in this article). Diggs entered 2020 after being outplayed by Adam Thielen in 2018 followed by a hobbled, disappointing 2019. The talent was never in dispute, but his narrative entering draft season suppressed his ADP. Add to that Allen's monumental developmental leap forward and Diggs is now being considered one of the best wide receivers in football. You could argue he is one the "Best Bargains," but with an ADP inside the top 75, "value" instead of "Bargain" was a distinction I felt justified in making.
2021 Prediction
He'll be drafted as a top-five player at his position and inside the top 20 overall. There will be some contrarian articles (probably by me) projecting regression for Diggs, but he is a legit top 10 wideout at the very least and will justify his 2021 ADP, but his days of being "A Value" are over thanks to his incredible 2020 campaign.
Darren Waller, TE Las Vegas Raiders
ADP: #60.4 (TE5)
Fantasy Points: 251.9 (Tied12th Overall)
Tight End is a bad position in Fantasy and while that results in the occasional "position scarcity" overdraft, more often than not it suppresses their ADP. Travis Kelce and George Kittle were known commodities and Fantasy monsters at their position and even they were drafted #20.1 and #25 respectively - slightly outside the top two rounds in standard 10 team leagues. That being said, especially during the stretch run and then the Fantasy playoffs, Waller was an absolute beast.
2021 Prediction
Waller has done it in receptions and receiving yards in back-to-back seasons, but the reason his 2021 ADP is likely to be boosted is the touchdowns. He catapulted from three in 2019 to eight in 2020 even though his receiving yards actually decreased slightly in one fewer game. He'll probably be selected as the TE2 rather than five and inside the top 30 rather than 60, but the rest of his profile is likely to remain the same with the potential for some regression. Most NFL players have bumps in their careers and while Waller has been consistent so far, a slight drop off in production accompanied by an increase in draft-day cost will probably result in Waller being on this list in 2020 and a slight overdraft designation in 2021. He's one of the true impact tight ends in the game and that won't change in 2021.
Aaron Rodgers, QB Green Bay Packers
ADP: #95 (QB10)
Fantasy Points: 357.26 (5th Overall - 4th at QB)
I had shares of Rodgers in almost every league I play in because his ADP was just too good to pass up. I even selected him in a limited redraft keeper league that I already had Lamar Jackson - something almost no Fantasy analyst would endorse. The best strategy in Fantasy football is to select a quarterback being drafted 15-20th or worse at his own position and then watch him finish in the Top 10. But, with an ADP of #95, I had already filled most of my roster and he is still one of the best throwers in the game. He was drafted after Drew Brees and Matt Ryan, even Tom Brady, none of which can throw the ball anywhere near as well. Leading the league with 44 touchdown passes didn't hurt.
2021 Prediction
I spoke about this on "The Slatebreakers Podcast" with Co-Host Peter Gofen (@PeterJaguars). Our theory is that Rodgers and the Packers staff want to win him the MVP and they are having him throw in the red zone more, resulting in a league-leading 44 touchdown passes (along with Davante Adams being a league-leading red zone monster). Rodgers is sixth in passing yards while being drafted 10th at his position. Rodgers with 34-40 touchdowns instead of 44 is more like the 10th best quarterback, which is where he was drafted in 2020, than the fifth as he currently ranks. Expect that in 2021. Certainly a viable starter that justifies an ADP of 90-110, but not the bargain he was this year. For those that had him this year, congrats, but don't double-down in 2021 if his ADP rises 30-40 spots and gets closer to the top 50.
Josh Allen, QB Buffalo Bills
ADP: #96 (QB11)
Fantasy Points: 376.8 (2nd Overall to Alvin Kamara of the "six touchdowns in week 16" Kamara's)
Looking back at it now, due to his running ability and rushing touchdowns (26 in three NFL seasons) and the upside that that creates alone, his ADP was a bargain that we should have known at the time. My concern entering 2020 was his passing. He was inaccurate and inconsistent throwing the ball while being extremely slow making decisions and he made way too many bad choices resulting in interceptions and a loss of potential yards and touchdowns in previous seasons. But, he shouldn't have fallen past seventh at his position behind Drew Brees and Matt Ryan, aging statues with zero upside. It's understandable that he was such a value, but he was a borderline "Best Bargain" this season and that's on him. He did an amazing job getting better this year. I didn't think he would or that he could ever get THIS 2020 good.
2021 Prediction
He'll be drafted like a top-five quarterback in 2021 and more than likely, top two or three behind only Mahomes and possibly Kyler Murray. Nobody is Mahomes, but Allen is better than Kyler Murray and he makes Lamar Jackson look like a D3 thrower in comparison. Most Fantasy Team Managers won't draft quarterbacks high enough to acquire an Allen or a Mahomes, but someone always does and Allen justifies it if you aren't philosophically opposed.
David Montgomery, RB Chicago Bears
ADP: #60 (RB28)
Fantasy Points: 236.6 (20th Overall)
In 2019, Montgomery rushed for 889 yards with 25 receptions for185 receiving yards and three combined touchdowns. A respectable, but not exactly explosive rookie campaign. That and doubts about Mitch Trubisky and the QB situation in Chicago explains the less than sizzling excitement entering 2020. He was selected in the same area as other "Best Bargains" Stefon Diggs and Darren Waller and after lesser players like Devin Singletary and Marquise Brown. In retrospect, obviously a mistake. He has a comparable skillset to Edwards-Helaire, only better natural ability and size to run between the tackles and less upside in the passing game. Given what we knew then, not now, he deserved to be selected in the 30-40 range rather than 60 based purely on his 2019 performance.
2021 Predictions
Montgomery finished 2020 as a top six running back in PPR formats, but his skill set doesn't justify that kind of ADP. There are more talented running backs in better overall circumstances. I suspect when draft season comes along analysts and Fantasy Team Managers will downgrade his 2019-2020 results and his ADP will adapt accordingly. I expect him to be a top 15-20 pick and a low to mid-range RB2 in 2021 drafts. At that ADP, he's a solid value.
One thing to be cautious about with Montgomery is that he had only two 100 yard games in 2019 and three in 2020. He did rush for over 1,000 yards, almost doubled his receptions from 25 to 45, and he did double his receiving yards from 185 to 375 from 2019 to 2020. Another factor to consider; Montgomery was a pedestrian Flex for all but one of the first 10 weeks of the season, then after their week 11 bye, he exploded for his four best games and all but two of his nine touchdowns. Inconsistency shouldn't play a major role in elevating or discounting a player's projections or pre-season ranking, but it is something to at least consider when making difficult decisions between comparable players. It's a meaningful knock against Clyde Edwards-Helaire's 2020 rookie season.
Honorable Mentions
Diontae Johnson, WR Pittsburgh Steelers: ADP #94.3 - Fantasy Scoring Ranking #29
Calvin Ridley, WR Atlanta Falcons ADP #38.6 - Fantasy Scoring Ranking #9
Worst Values by ADP
| | | | | |
| --- | --- | --- | --- | --- |
| 2020 Worst Values by ADP (PPR) | 2020 ADP | 2020 Final FF Rank | '2020 Fantasy Points | 2020 Positional Ranking by ADP |
| Ezekiel Elliott | #3.7 | #31st | 208.6 | RB3 |
| Josh Jacobs | #10.6 | #27th | 210.4 | RB9 |
| Lamar Jackson | #20.9 | #14th** | 308.56 | QB2 |
| Mark Andrews | #42.1 | #65th | 163.4 | TE3 |
| Melvin Gordon | #37.1 | #53 | 177.4 | RB21 |
| Devin Singletary | #55.3 | #87 | 141.3 | RB27 |
** NOTE**
When listing a Non-Quarterback I used PPR Flex Season Rankings for overall Fantasy scoring in order to exclude quarterbacks due to their high point totals because they crowded the top of the rankings. When ranking quarterbacks I included ALL offensive players.
Ezekiel Elliott, RB Dallas Cowboys
ADP: #3.7 (RB3)
Fantasy Points: 208.6 (31st Overall)
Elliott scored over 200 Fantasy points and was a must-start play when he was healthy, but he had his worst season as a professional in rushing and receiving yards and touchdowns. He was drafted alongside Christian McCaffery and before Dalvin Cook and Derrick Henry while he performed like Mike Davis, Antonio Gibson, Diontae Johnson and Cole Beasley. Elliott wasn't worthless but top five picks are expected to carry teams to Fantasy titles, making him a bad value but not a total bust in 2020. He did have five games of 89 rushing yards or more and six games of 100 or more total yards from scrimmage. The overall touches dropped and the touchdowns disappeared while the yards from scrimmage dried up after the injury to Dak Prescott as well.
2021 Prediction
Elliott's ADP is likely to drop to the back end of the first round and if Prescott's return is delayed, possibly further in 2021. That's good for Fantasy team Managers looking for value. The skills are still there while the decline is still a few seasons away. Elliott could receive as many as 75-100 more total touches in 2021 than he received in 2020. That increase alone could be worth 50-70 Fantasy points compared to 2020. Toss in a few more touchdowns for good measure and you have a bounceback season at a discounted rate in comparison to 2020. He's a 2021 target.
Josh Jacobs, RB Las Vegas Raiders
ADP: #10.6 (RB9)
Fantasy Points: 210.4 (27th Overall)
Jacobs 2020 was a lot like Elliott only with slightly lower expectations and slightly better results. Jacob advocates projected an increase in receiving yards and receptions along with a bump in overall performance as a runner. His contributions did increase in the pass game, but only slightly while he regressed on the ground.
2021 Prediction
It's slightly disconcerting that Jacobs workload increased while his efficiency and effectiveness declined. We've seen that from Jordan Howard and Alfred Morris in the recent past. He had more rushing attempts, more passing targets and more games played in 2020 than 2019 with lesser overall results. With the emergence of Darren Waller and some upheaval as to what direction the Raiders may go at the quarterback position, there are a lot of narratives that could develop surrounding Jacobs and his 2021 pre-draft projections. I like what he brings to the table and his role in the passing game did improve from season one to two and there is room for another jump forward in 2021. Jacobs isn't a must-target player, but if his ADP drops from 10 to closer to 20-25 then I will become very interested as an RB2 rather than an RB1.
Lamar Jackson, QB Baltimore Ravens
ADP: #20.9 (QB2)
Fantasy Points: 308.56 (14th Overall)
Jackson defenders love to point to his 64.2% completion percentage as well as a few advanced metrics that suggest he is a quality passer, but anyone who has watched him knows it's "lies, damn lies, and statistics." He's a subpar thrower, the Ravens staff knows it and we saw in 2020 that the NFL is adapting to his game and the Ravens offense that was so unstoppable in 2019. If he was an elite, or even average thrower, he wouldn't rank in the bottom third in attempts and yards in back-to-back seasons. In 2020, he ranked tied for 23rd in passing attempts with Drew Brees who missed four games while Jackson missed one. In 2019, he ranked 26th in attempts on his way to an NFL MVP (and a Fantasy one if they were given out). He has rushed for 300 fewer yards, thrown for 500 less and passed for 13 fewer touchdowns through 15 games. Those numbers will rise with one remaining game and he did miss a game this season as well, but his regression is due to the league learning how to defend him and the Ravens run-scheme.
2021 Prediction
In a league where everyone is throwing for big yards, Jackson hasn't in two straight years and I don't expect him to going forward. Jackson is too physically gifted to be stopped, but his ceiling is limited by his sub-par throwing ability. The excuse that he doesn't have weapons will be used to bolster the argument that he is a quality passer, but he has one of the best tight end targets in the game, one of the most dangerous rushing offenses and his pass attempts and total yards are still well below the norm. J.K. Dobbins is going to be the player to roster on this team in 2021. The possibility that intrigues me is how far does Jackson's ADP fall in 2021. If it falls from his 2020 #20 to something closer to 90-100 like Aaron Rodgers' did, I am on board. Jackson never profiled to throw as well as Russel Wilson or DeShaun Watson, but he can get better and his weapons could use an upgrade as well. The floor is too high and there is still ceiling to dream on. He doesn't have the kind of room to improve like we saw with Josh Allen, but 300 or so yards and a 2019, 36 type touchdown pass season would open up that floor and elevate that ceiling. It's all about ADP in 2021 for Jackson. I don't think he'll fall far enough. I expect apologists to emerge rather than reality to set in, so I see a slightly lesser overdraft in 2021 than we saw in 2020 where he was one of the worst values in Fantasy football.
Mark Andrews, TE Baltimore Ravens
ADP: #42.1 (TE3)
Fantasy Points: 163.4 (65th Overall)
If you're going to use a high pick on a tight end you absolutely have to get stand-out production and while Andrews is one of the better tight ends, he isn't an elite pass-catching one. He had only two 100 yard receiving games in 2019 and he has none in 2020. Andrews is one of the better tight ends in football, but he isn't a Travis Kelce, Darren Waller, impact pass catcher. It's more prudent and a safer draft strategy to select a running back, wide receiver or quarterback in the 40's and low 50's all the way back to the '90s and 100's and stream the tight end position. There were only two tight ends with 70 or more receptions and 700 or more receiving yards. The position can't be relied upon for consistent weekly production. The position needs to be eliminated from Fantasy football, or at the very least, punted and streamed by Fantasy Team Managers.
2021 Prediction
Andrews is a big target, an asset in the red zone, and a physical mismatch. And, I do expect Lamar Jackson to improve on his 2020 season in 2021, but I can't recommend drafting a tight end not named Kelce or Waller until the 90's come around and while I fully expect Andrews ADP to drop, I would be stunned to see it fall THAT far. Fade Andrews, because without 12-15 touchdowns he won't justify an ADP inside of 75.
Honorable Mentions
Melvin Gordon, RB Denver Bronco's: ADP #37.1 - RB21 - Fantasy Scoring Ranking #53
Devin Singletary, RB Buffalo Bills: ADP #55.3 - RB27 - Fantasy Scoring Ranking #87
Biggest Busts by ADP
| | | | | |
| --- | --- | --- | --- | --- |
| 2020 Biggest Busts by ADP (PPR) | 2020 ADP | 2020 Final FF Rank | 2020 Fantasy Points | 2020 Positional Ranking by ADP |
| Le'Veon Bell | #34.8 | #185th | 74.6 | RB20 |
| Clyde Edwards-Helaire | #5.7 | #54th | 176 | RB5 |
| James Conner | #21.2 | #74th | 153.4 | RB15 |
| Julio Jones | #13.6 | #81st | 146.1 | WR3 |
| Cam Akers | #51.5 | #151st | 91.2 | RB24 |
** NOTE**
When listing a Non-Quarterback I used PPR Flex Season Rankings for overall Fantasy scoring in order to exclude quarterbacks due to their high point totals because they crowded the top of the rankings. When ranking quarterbacks I included ALL offensive players.
There is a difference between being disappointing and being a bust. Some, it's obvious. David Johnson circa 2019 is an example of an out and out bust for example. Sometimes, it's a slight distinction without much of a meaningful difference. This year, I consider Zeke Elliott a "Worst Value" and Clyde Edwards-Helaire a "Bust." Both were comparably disappointing with comparable expectations. Often times it's based on expectations. Did Fantasy analysts and Fantasy Team Managers make a mistake with their projections or did the player actually play bad...or was it a combination of both? That's where the distinction comes into play for me. Here are a few of my "Biggest Busts" for 2020.
Le'Veon Bell, RB New York Jets/Kansas City Chiefs
ADP: #34.8 (RB20)
Fantasy Points: 74.6 (185th Overall)
Fantasy Team Managers that bought into Bell in 2020 blamed the Jets for a respectable, but down 2019 season. He had 1,250 total yards from scrimmage and four touchdowns for a dysfunctional Jets team, so to see what we saw in 2020 wasn't all that obvious. There were concerns that the cliff was coming and obviously it has, but it wasn't staring us right in the face with a grim reaper grin.
Bell didn't have a single game of more than 80 total yards from scrimmage and only one with 11 Fantasy points or more and he needed a touchdown to do it. And, the majority of his games came with the high-powered Chiefs, not the lowly Jets. Bell was drafted as a RB1 by "Zero-RB Strategy" Fantasy Team Managers or as a low-end RB2/High-end RB3/Flex and he was completely worthless. He wasn't expected to carry a team but he was expected to be a must-start weekly contributor and he wasn't even close. He was worthless. That's a Bust.
2021 Prediction
Bell's done. He could be taken as a flier in shallower leagues or as a "hope and a prayer" in deeper ones, but the game is gone. The cliff has come. It might be interesting to see where he lands though. Maybe he recommits himself and with an opportunity becomes a "Best Bargain" in 2021? I wouldn't bet on it, but Adrian Peterson is still contributing while LeSean McCoy is still in the league. What I'm sayin is there's still a chance!!!
Clyde Edwards-Helaire, RB Kansas City Chiefs
ADP: #5.7 (RB5)
Fantasy Points: 176 (54th Overall)
Edwards-Helaire had a good rookie season by any reasonable measure in 2020. He rushed for 803 yards, had 36 receptions for 297 receiving yards and five total touchdowns in only 13 games played. The problem is he was drafted to be a potential Fantasy MVP as a RB1 and he finished 2020 as the 54th best overall player and 19th best running back at a position that is repeatedly accused of being thin. Expectations weren't reasonable and he fell significantly short of them.
The other weakness in his 2020 profile was inconsistency. He averaged only 13.5 Fantasy points per game in PPR formats. That ranked 22nd amongst running backs. Those rare games when he was good he was very good, but there were only three games when he accumulated more than 100 total yards from scrimmage (he had two "smash" games - as my Podcast Co-Host Peter Gofen likes to say - of 138 and 161 rushing yards). He only scored touchdowns in four of 13 games played and outside of his two bigtime efforts he didn't rush for more than 80 yards in any game. And, he had seven games of 46 rushing yards or less. That's the resume of a First Round Bust.
2021 Prediction
CEH is an explosive talent that has room to grow in 2021 and beyond but he also has limitations that are unlikely to diminish his future ADP, but will make him a yearly overdraft yet again in 2021. With an offense that likes to throw downfield, coached by Andy Reid and helmed by a quarterback (Patrick Mahomes) that could possibly finish his career as the best we ever saw, along with an almost unstoppable deep threat (Tyreek Hill) and one of the best pass-catching tight ends of the last 20 years, where are the touches and targets going to come from? Add to that his struggles in the red zone and running between the tackles on predictable running downs and distances and we have ourselves an above-average third-down and change of pace RB. He profiles to be better than that, but he isn't a true three-down running back and don't be surprised to see the Chiefs bring in a running back that can get those tough yards on early downs and in the red zone, damaging his future potential as well.
The positive are that he is an explosive talent and as the Chiefs grow comfortable with him as their RB1 they will target him in the passing game with defensive personnel mismatches and they will hand it off to him in passing situations where there is more space to run so he can use his unique combination of power and quickness to break off chunk plays. His ceiling is Austin Ekeler, not Alvin Kamara or Dalvin Cook and certainly not Christian McCaffery, though his size would best compare to C-Mac of this group. Fantasy Team Managers should expect a Top 10-12 RB rather than a Top 18-22 one, but that means they shouldn't be rushing out to invest a first-round pick chasing a career year. He doesn't profile to be a top five RB both physically or situationally. The touches and targets won't be there to fulfill those kinds of expectations either.
CEH is a "Bust" on this list because analysts made an enormous mistake endorsing his 2020 ADP while Fantasy Team Managers drafted him like a top-five player. In 2020, CEH was Todd Gurley while he was drafted ahead of Derrick Henry and Dalvin Cook. How is that not a bust? If he falls to the mid-teens in 2021 Edwards-Helaire becomes reasonable, though still slightly overdrafted. If he somehow falls to the second round he becomes a value. Unfortunately, I predict another top 10 ADP and so like I successfully did in 2020, I will be fading the hype.
James Conner, RB Pittsburgh Steelers
ADP: #21.2 (RB15)
Fantasy Points: 153.4 (#74th Overall)
Conner fell short of some lofty expectations in 2019, but there were injuries that mitigated the disappointment for Fantasy owners. His ADP dropped entering 2020, but he was still drafted as a low-end RB2 or high-end Flex and while he was less disappointing than 2019, he disappointed Fantasy Team Managers again.
2021 Prediction
Conner is a dual-threat running back with an ability to play on third down and contribute in the passing game. He was a 200+ carry runner in his breakout 2018 season, but with back-to-back seasons missing games due to injury, his projections will have to be adjusted to account for the expectation that this is what Conner is and his ADP should be impacted. He has the potential to be a nice value if he falls far enough down draft boards to be a true Flex option and I expect that to be the case in 2021.
Julio Jones, WR Atlanta Falcons
ADP: #13.6 (WR3)
Fantasy Points: 146.1 (#81st Overall)
2020 has been peppered with missed games early, in the middle, and now to finish out the season for Jones. Sprinkled in amongst the missed games were bad ones as well, suggesting he played when maybe he shouldn't have. He had four games of 54 yards and five receptions or less and only three 100+ yard receiving games in nine starts. I list Jones as a bust even though injuries are mostly to blame for his disappointing season because I feel like Fantasy Team Managers should have taken potential injuries into consideration when it came to drafting Julio Jones and with an ADP of #13.6 - 81st overall scorer - he fell WAY short of expectations. Jones has played 14 games or more in seven of his last nine seasons, but it seems like he is always on the injury report, whether it be a game-time decision or a DNP on Thursdays. He had always battled through it and always played and always performed, until 2020. He would have been listed as a "worst value" regardless, but I feel the whiff of injury risk entering the draft season earns him the bust label. Fantasy Team Managers should have factored it in when they hit submit on draft day and they selected him unlucky 13th anyway.
2021 Prediction
Calvin Ridley's emergence as a WR1 in 2020 is likely to impact Jones' targets and touches projections for 2021 and the injury-plagued season is likely to have an impact on Fantasy Team Managers' aggressiveness about him on draft day as well. I still expect him to be a top performer and a potential value if he falls into the low to mid-'20s, which could happen. He had five games of 94 receiving yards or more and three games of 137 receiving yards or more in 2020. Jones hasn't lost his fastball. It looks like he was banged up to the point where it finally impacted his ability to perform through it on the field.
Cam Akers, RB Los Angeles Rams
ADP: #51.5 (RB24)
Fantasy Points: 91.2 (151st Overall)
I had high hopes for Akers entering the season and while being a disappointment as a rookie is always a risk you take when drafting a first-year player, the Rams waited almost the entire season to give him even a partial opportunity, resulting in more or less a lost season. He missed two games to injury, he had zero touches or targets in back-to-back games in October and he had double-digit carries in only five of 12 games where he was active. Three of those double-digit carry games were in December and his breakout performance, December 6th, came out of nowhere so Akers was likely on the bench or the waiver wire at the time. December 10th against New England Akers had 29 carries, 171 yards rushing and 23 yards receiving. For those that started him that day they got what was probably the only productive start of his Fantasy season. The next week, 15 carries, 63 rushing yards, and no touchdowns. A bust. With an ADP of #51.5, expectations were muted entering the season, making the "Bust" label slightly aggressive on my part, but he was drafted as a Flex starter or low-end RB2 and he was worthless. By the time the Rams gave him an opportunity the Fantasy season was basically over or Fantasy Team Managers had cut bait and dumped him on the waiver wire already (except me who carried him all year).
2021 Prediction
I thought he had a chance to be the best rookie running back of his class and possibly the rookie of the year. He has that kind of running potential. He isn't quite as explosive as Clyde Edwards-Helaire and he doesn't have the receiving potential of CEH, but he profiles as a better pure runner between the tackles and he should receive a larger percentage of the target share with the Rams than Edwards-Helaire will in Kansas City. CEH is going to be drafted much higher but I am sticking to my guns and predicting Akers will be the better Fantasy running back and that starts in 2021. The Rams gave him the full-time opportunities in December that I expected he would receive from day one and that I expect he will get in 2021. The problem is Akers will be on everybody's radar. He will be anaysts breakout darling. He will be hyped so much that he won't even be on sleeper lists. The draft-season sizzle is likely to catapult his ADP into the second round. Drafting him means reaching for his ceiling rather than chasing his upside, which is what happened in 2020. Right now I would rank him ahead of CEH, but behind Jonathan Taylor (slightly) and J.K. Dobbins even though I like Akers better than all three. I'm going to be bullish on Akers in 2021 with the full knowledge that he won't be a good value on draft day.
Best Bargains by ADP
Every season there are players that fall through the cracks on draft day or crash into opportunities due to injury or unforeseeable circumstances. Sometimes it's a "handcuff" running back like Mike Davis or a rookie blocked by an aging veteran like James Robinson when Leonard Fournette was released. Sometimes it's a rookie wide receiver that we weren't quite sure would hit in year one like Justin Jefferson. Regardless of the reason, it's a big-league loaded with talented players and we can't identify them all in the pre-season. 2020 made it even more difficult because we didn't have a pre-season and going forward, that may become the norm. Here are some of the best 2020 bargains based on ADP.
| | | | | |
| --- | --- | --- | --- | --- |
| 2020 Best Bargains by ADP | 2020 ADP | 2020 Final FF Rank | 2020 Fantasy Points | 2020 Positional Ranking by ADP |
| James Robinson | #152 | #14th | 250.4 | RB58 |
| Justin Jefferson | #129.2 | #12th (Tied) | 251.9 | WR51 |
| Justin Herbert | #346 | #10th** | 299.86 | QB35 |
| Ryan Tannehill | #159.2 | #7th** | 315.92 | QB21 |
| Robby Anderson | #177 | #23rd | 217.1 | WR67 |
| Cole Beasley | #179 | #32nd | 207.5 | WR69 |
** NOTE**
When listing a Non-Quarterback I used PPR Flex Season Rankings for overall Fantasy scoring in order to exclude quarterbacks due to their high point totals because they crowded the top of the rankings. When ranking quarterbacks I included ALL offensive players.
James Robinson, RB Jacksonville Jaguars
ADP: #152 (RB58)
Fantasy Points: 250.4 (#14th Overall)
Leonard Fournette was released 13 days before the Jaguars opening day tilt against the Indianapolis Colts. Handcuffs have become less and less popular in Fantasy Football and Robinson wasn't a very strong candidate even if they were more commonplace. He was unheralded in the draft and without a pre-season, there wasn't any reporting or buzz to put him on the radar. The Jaguars were a bad team but Robinson was a really good running back and a fantastic bargain. He rushed for over 1,000 yards, 344 receiving yards, 49 receptions, and 10 total touchdowns as a dual-threat rookie. He had 10 games of 90 total yards or more from scrimmage, scored a touchdown in eight games and averaged 17.9 Fantasy points per game in PPR formats. Robinson won people money at a bargain price in 2020.
2021 Prediction
Robinson cooled down at the end of 2020 but he showed that he is a true three-down running back after ranking fourth in rushing attempts and seventh in passing targets for running backs with 60. He doesn't pop off the charts skill-set wise like a McCaffery, Dalvin Cook or even Aaron Jones, but he has as good if not a better overall profile than comparable running backs like David Montgomery or potentially Jonathan Taylor because of his abilities in the passing game. He'll be in the mix in the first round and it seems impossible right now to see how he isn't a low-end RB1 that is gone by the end of round two. 2020 was absolutely a breakout bargain and 2021 is when Fantasy Team Managers will have to pay for it at the draft table. With Trevor Lawrence under center, D.J. Chark and Laviska Shenault running routes, and Robinson toting the rock, the 1-15 Jaguars are going to be an extremely intriguing Fantasy roster to pick from in 2021.
Justin Jefferson, WR Minnesota Vikings
ADP: #129.2 (WR51)
Fantasy Points: 251.9 (Tied #12th Overall)
I am always skeptical of rookies, especially wide receivers, and I was still skeptical of Jefferson after he first broke out in week three with a 175-yard receiving game but I was clearly wrong. Six 100+ receiving games, including four of 120 or more, seven total touchdowns and five touchdown games, and 1,267 receiving yards. Rookies don't finish in the top 15-20 very often but Jefferson did and he brought the beast consistently. He had a few bust games, all do, but it was rare - four at most.
2021 Prediction
Jefferson doesn't have the freak "Julio Jones" kind of skill set that explodes off the screen during draft prep. He was always more than just a possession guy at LSU, and his skill set is much better than that label suggests, but at this elite world-class level, he profiles slightly less explosive than the other elite young wide receivers - like DK Metcalf for example. In 2020, that didn't matter and it's hard to argue it should. The numbers are overwhelming and he did it with a WR1 alongside him in Adam Thielen and one of the best Fantasy players in the game in Dalvin Cook toting the rock as the primary focus of the Vikings offense and if those weren't enough of an obstacle, Kirk Cousins isn't exactly the best thrower of the pigskin. These will all be used to argue against Jefferson as a WR1 in 2021 drafts and they are compelling arguments, but the kid is obviously special. He was maybe the best bargain in Fantasy football this season and the potential narratives against him could suppress his ADP, making him a draft day value once again. I'll be watching closely because I want my shares of Jefferson in 2021.
Justin Herbert, QB Los Angeles Chargers
ADP: #346 (QB35)
Fantasy Points: 299.86 (#10th Overall)
Rookie quarterbacks often sit a few games or even half a season and when they do play even the best have their bumps and their bruises on the way to becoming stars, but Herbert mostly avoided those obstacles. Herbert played in 14 games (15 if he plays week 17) after Tyrod Taylor was sabotaged by his trainer who collapsed his lung and cost him his 2020 season and he had only two games of fewer than 240 passing yards. He only rushed for 255 yards, a relatively small amount in today's hyper-mobile game, but 25 Fantasy points on the ground with four rushing touchdowns helped too.
2021 Prediction
Herbert is mobile enough to keep the floor high and he has already shown that he could be one of the elite passers in the game. Austin Ekeler will be a big help out of the backfield and in the passing game and Keenan Allen is the WR1 target that young quarterbacks need to become elite Fantasy ones. It's foreseeable that he is a better Fantasy quarterback than Aaron Rodgers was this season as early as 2021 and he had an ADP close to 100 and finished the season as a top five Fantasy QB. That's Herberts potential and he is already almost there in his rookie season. Nobody is Patrick Mahomes, he doesn't run like the extremely mobile elite like Murray and Lamar at the position so passing touchdowns and yards are going to have to be his ticket. That should limit how high his ADP rises and should make him a consistent top 5-10 QB with a reasonable draft-day price tag. You may want to stack Hunter Henry with Herbert and maximize the "Double-Whammy" potential in Los Angeles.
Ryan Tannehill, QB Tennessee Titans
ADP: #159.2 (QB21)
Fantasy Points: 315.92 (#7th Overall)
A team that has the league leader in rushing attempts and rushing yards (Derrick Henry) isn't the place to go to target a quarterback and in 2020 nobody did. He was drafted outside the top 20 at his position which means he was a bench player even in two-QB leagues, but he was efficient. Tannehill is exactly how Fantasy Team Managers should go about winning leagues. Use early picks for running backs and elite wide receivers and hope to find a bargain at quarterback that performs like a top 10 difference-maker. He did have only two 300+ yard passing games and he threw for under 200 yards four times (that's almost Lamar Jackson territory), but he threw for 32 touchdowns and rushed for another five.
2021 Prediction
Tannehill has good weapons in Corey Davis, AJ Brown is a WR1 that doesn't quite get that level of respect, and Jonnu Smith is one of the better tight ends in a poor field of options. That's the good part of Tannehill's 2021 profile. Derrick Henry, a bushel full of carries and a run-first offense is the bad. Tannehill has too many anemic games to truly buy into him as a consistent top 10 Fantasy quarterback and his skill set doesn't sizzle. That's actually good. At a bargain he is a safe, reliable contributor just like he is as an NFL quarterback. Don't target him as a must-start QB. Let him fall to you and if you are a contrarian like myself, draft two quarterbacks. One, Tannehill, to be your safe, reliable option and then with the other chase some upside and hope for a smash breakout season like we saw from Lamar Jackson in 2019, Justin Herbert in 2020 and possibly...Jalen Hurts or Trevor Lawrence in 2021? I think a second QB is worth the roster spot and Tannehill is the type of guy that allows you to both chase the heavens and stay safe and grounded at the same time.
Honorable Mentions
I don't trust either Anderson or Beasley to be league-altering monsters at the position going forward but I like their skill sets and they are the types of late-round wide receivers I target. Players in situations with opportunities coming, a relatively unproven track record of elite performance but a track record that suggests Fantasy viable ability. Then, look at the situation. Beasley is more of a possession guy and Anderson with big-play ability, but both fell into new situations that had something of a breakout season. Carolina with the addition of Teddy Bridgewater and injuries to Christian McCaffery turned into a good spot for Anderson while Beasley was the possession guy for a huge breakout season from Josh Allen. Look to Justin Herbert and Joe Burrow to be two of those places where these kinds of breakouts could happen for a relatively underappreciated wide receiver in 2021. Jalen Hurts and the Eagles is another and don't write off New England. If they add someone that can throw that's a situation to find a gem like Beasley and Anderson were this season.
Robby Anderson, WR Carolina Panthers
ADP: #177 (WR67)
Fantasy Points: 217.1 (#23rd Overall)
Cole Beasley, WR Buffalo Bills
ADP: #179 (WR69)
Fantasy Points: 207.5 (#32nd Overall)
Zero Running Back Strategy
The Zero Running Back strategy is a drafting philosophy that emerged out of unwanted circumstances. Rather than have analysts and Fantasy Team Managers admit they basically punted the RB position because they couldn't justify paying an elevated price for a relatively pedestrian player, they devised a "philosophy" to make it sound like it was intentional and now, the excuse has become a strategy. The question that arises now after it's become a part of the yearly draft-day narrative is "What is the "Zero Running Back strategy?" How to define it. A general description is that it is like Position Scarcity, a common Fantasy baseball term and mistake made by Fantasy players. It's also applied to tight ends and is becoming one for running backs to a lesser degree as well, but catchers and for awhile shortstops in Fantasy baseball were the genesis of it. Basically, the Zero Running Back Strategy is when Fantasy Team Managers draft the best available player rather than reach for lesser running backs because the position is thinning out. It's a common dilemma in the later second round or mid-third and once you're on that path it dominoes from there. In 2020, did you draft James Connor at #21, David Johnson, Melvin Gordon or Todd Gurley at picks 25-40 or did you select higher rated overall players like George Kittle, Kenny Golladay, Mike Evans or Adam Thielen? That's the dilemma. Did you draft David Johnson and all his baggage, who finished 2020 with 158.5 Fantasy points in PPR formats and it took a monster week 16 to do that, or a WR1 like Adam Thielen and his 244.3 Fantasy points?
The next question is, is it "A Zero Running Back Strategy" if Fantasy Team Managers that used it successfully claimed what turned out to be a RB1 or RB2 off the waiver wire rather than built a roster based on the philosophy? Someone like Mike Davis who emerged because of an injury to Christian McCaffery or James Robinson who had an ADP of #152 and was a Free Agent in some leagues until Leonard Fournette was released on September 1? I think, to adapt the strategy to the reality of Fantasy football, the philosophy needs to accept certain risks and uncertainty if you are going to choose it of free will rather than divine intervention. The strategy starts on draft day but it assumes that successful picking of the waiver wire will be required in order for the approach to work. We see this in Fantasy baseball all the time. Experts scream from the rooftops every draft season, "DON'T DRAFT CLOSERS EARLY!!!%$&(%_)&(#%*. They preach this because saves are available at the end of drafts from middling closers or from "closer by committee" situations. And, closers lose their jobs at an alarming rate in Fantasy baseball. In Fantasy football, the same circumstances occur. Starters get injured, players emerge. In order to implement the "Zero Running Back Strategy" Fantasy Team Managers need to accept that it will not be a successful approach if they don't vigilantly attack the waiver wire. It's an extremely risky strategy because it's extremely difficult to predict what running backs will emerge and it's even more difficult, borderline impossible, to predict injuries. Drafting and carrying handcuffs was once a common approach, but it has lost favor because running back by committee situations have become routine, making more running backs less valuable but even more somewhat viable as well. Alexander Mattison of the Minnesota Vikings has the skill set to be an elite Fantasy running back and Dalvin Cook has had some durability issues in his short but distinguished career and yet, handcuffing Cook with Mattison this season was a waste of a roster spot. However, if you were a Fantasy owner that used the strategy and was successful picking clean the waiver wire then there were enough running backs to make ti work. It's a low-percentage strategy that I struggle to advocate for, but in shallow leagues especially, it can work. Here are a few running backs that contributed in varying degrees that could have assisted in the strategy winning bank in 2020.
| | | | | | |
| --- | --- | --- | --- | --- | --- |
| '2020 Zero RB Contributors | '2020 Average Draft Position | '2020 Fantasy Points | '2020 Rushing Yards | '2020 Receiving Yards | '2020 TDs |
| James Robinson | #152 (RB58) | 250.4 | 1,070 | 344 | 10 |
| Mike Davis | #243 (RB78) | 206.5 | 642 | 375 | 8 |
| J.D. McKissic | #239 (RB76) | 183.4 | 365 | 559 | 3 |
| Nyheim Hines | #147.6(RB55) | 180.5 | 363 | 432 | 7 |
| Wayne Gallman | #355 (RB114) | 130.1 | 617 | 114 | 6 |
| Miles Gaskin | #308 (RB103) | 146.5 | 564 | 331 | 4 |
| Jeff WIlson Jr. | #343 (RB111) | 118.5 | 524 | 121 | 8 |
As you can see, finding a full-time running back extremely late in the draft or on the waiver wire is an extreme challenge. Mike Davis was active for all 15 Panthers games but he had six games with 11 rushing attempts or less and six games with six targets or less. Hard to call that a "full-time" running back. James Robinson was the exception, but a unique one. He became the go-to guy on Sept 1, two weeks before the opener but after a lot of Fantasy drafts had already happened. One of the safer approaches when using this strategy is to target pass catchers and change of pace backs like James White, J.D. McKissic and Nyheim Hines. They don't contribute in the run game as much as we may like, but beggars can't be choosers and they made this strategy workable in 2020, especially in PPR formats.
There are some drawbacks that make this strategy problematic as well. Most of these running backs contributed in short bursts rather than consistent, reliable, long term periods. I didn't list every running back that may have contributed in a meaningful way in even one or two games, like Cam Akers who had a nice two-game stretch late in the season, but there are a lot of them. This makes it theoretically possible but it also exacerbates the difficulty of choosing the right one. By implementing this strategy Fantasy Team Managers are essentially streaming the RB2 position. It's difficult to maintain, especially if the philosophy is actually working. If you are winning then your waiver wire position is worse, making it more and more difficult to acquire the hot waiver-wire running back you need to stream each week. It's almost impossible to predict who the "next man up" will be but you are going to have to do your research and find a way to be ahead of the curve. The ideal situation is to hit on a James Robinson late in the draft and be set for the season, but don't expect this to be the case, especially if you play in multiple leagues and implement this approach in all of them. The math is against you here. The odds are slim. But, as you see here and if you scroll through the final Fantasy Scoring rankings, there are RBs that did contribute enough to be viable contributors that can make this approach work.
Good Luck and Happy New Year everyone. You can follow me on Twitter @CJMitch73
STAY IN TOUCH
Sign up for FantasyData's newsletter and get awesome content sent to your inbox.
We'll never share your email address and you can opt out at any time, we promise.
---
Chris Mitchell began his Fantasy Sports Writing/Podcasting career with RotoExperts.com, writing about Minor League Prospects, Fantasy Football and Baseball. He won a 2017 FSWA award for "Best Comedy Article" and was Nominated for "Best Fantasy Podcast" in 2018. He has worked as a freelance writer and season-long contributor to BaseballAmerica.com and as a Daily Fantasy Sports analyst for Fantasydraft.com. His content has appeared in a multiple of outlets like The AP, The New York Daily Post, USAToday, Fantrax.com and more. He is President of Bosco Nation, where his Podcasts can be found BlogTalkRadio