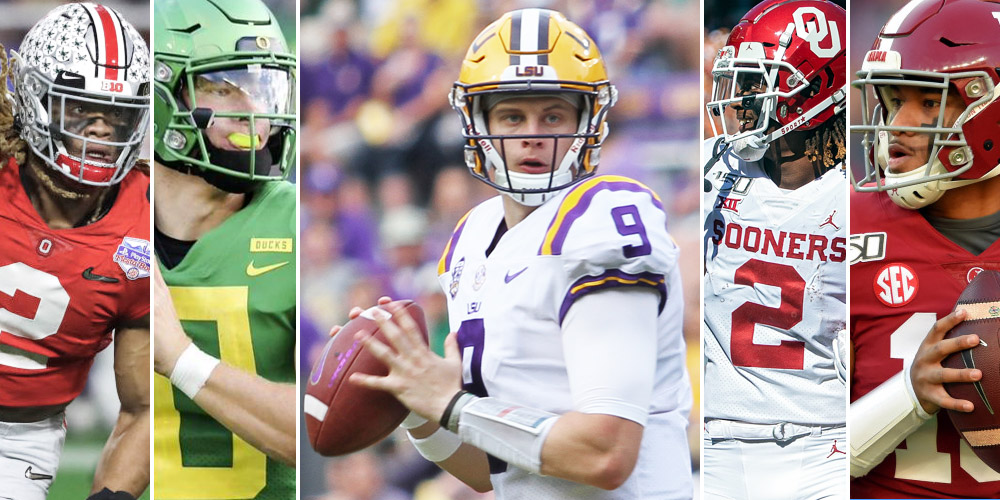 Dynasty Rookie Rankings 2020
---
Dynasty Rookie Rankings 2020
There is still a lot of uncertainty about the likelihood of a normal NFL season proceeding as scheduled, but the conclusion of the 2020 NFL Draft brings hope to sports-starved football fans. Now that the draft has concluded, fantasy football enthusiasts can begin preparing for their upcoming dynasty drafts featuring all the latest rookies.
While the draft itself was quite unusual, the crop of skill position rookies is considered fairly deep, especially among a talented group of wide receivers. Landing spots always play a big part in rookie fantasy rankings, but film analysis and advanced analytics also play a huge role for those willing to put in the work.
Now that we know the final NFL destinations for all of the incoming 2020 rookies, it's time to take an optimistic approach and start preparing for our 2020 dynasty drafts. Here are the top-50 rookies to be aware of as we kick off the 2020 fantasy football season.
| | | | | |
| --- | --- | --- | --- | --- |
| RANK | PLAYER | POS | TEAM | RD(PICK) |
| 1 | Clyde Edwards-Helaire | RB | Kansas City Chiefs | 1(32) |
| 2 | Jonathan Taylor | RB | Indianapolis Colts | 2(41) |
| 3 | D'Andre Swift | RB | Detroit Lions | 2(35) |
| 4 | J.K. Dobbins | RB | Baltimore Ravens | 2(55) |
| 5 | CeeDee Lamb | WR | Dallas Cowboys | 1(17) |
| 6 | Cam Akers | RB | Los Angeles Rams | 2(52) |
| 7 | Jerry Jeudy | WR | Denver Broncos | 1(15) |
| 8 | Jalen Reagor | WR | Philadelphia Eagles | 1(21) |
| 9 | Justin Jefferson | WR | Minnesota Vikings | 1(22) |
| 10 | Henry Ruggs | WR | Las Vegas Raiders | 1(12) |
A favorite of the amateur draftnik community, Clyde Edwards-Helaire landed in an ideal spot, concluding the first round by being selected by the Super Bowl champs. Not one to invest early draft collateral on running backs, Andy Reid comped Edwards-Helaire to Brian Westbrook, who shined in Reid's system back in Philadelphia. Like Westbrook, CEH is short but compactly-built (5-7, 207), has excellent hands, and excels at creating space. Reid prefers to use his starting running backs in a three-down capacity and Edwards-Helaire doesn't have a lot of serious competition in front of him to emerge with that role by Week 1.
Jonathan Taylor was widely considered to be the top running back of the 2020 class after a prolific career at Wisconsin in which he finished as the sixth-leading rusher in FBS history. At 5-10 and 226 pounds, Taylor blazed a 4.39 40-yard dash (98th percentile) and produced an elite 121.7-speed score figure which ranked in the top 1%. Taylor was durable and showed three-down ability with the Badgers. While Marlon Mack enters the 2020 season atop the Colts' depth chart, Mack has had issues staying healthy and is entering the final year of his rookie contract. By some accounts, Taylor has the same sort of elite pedigree that traditionally has garnered top-5 NFL Draft billing, but came at a steeply discounted price to Indianapolis.
Georgia has become Running Back U recently, and D'Andre Swift looks like he could be the next Bulldog to successfully transition to the NFL. Swift (5-8, 212) routinely broke off big-gainers and displayed excellent vision when finally given the chance to start after backing up Nick Chubb and Sony Michel as an underclassman. While at Georgia, Swift was often lined up outside or in the slot as a receiver and made an excellent showing in the passing game. Swift finished his college career with a 6.6 yards per carry average (9th most in the SEC dating back 65 years and had zero fumbles. He's got a three-down skill set and big-play ability but joins a crowded backfield in Detroit and no team has had worse luck with early-round tailbacks than the Lions. Still, Swift has significant upside and is certainly worthy of a very early first-round investment in rookie drafts.
J.K. Dobbins dominated in his final year at Ohio State (2,003 rushing yards, 23 TD) but declined to participate in on-field drills during the NFL Combine. Film shows a potential bell-cow back with vision, power, speed, and soft hands. Unfortunately, Dobbins landed in Baltimore where the presence of Mark Ingram, Gus Edwards, and even QB Lamar Jackson all stand in the way as potential obstacles towards the rookie making a significant impact in 2020. However, Ingram will turn 31 this season and the club can cut ties rather easily, so Dobbins' longterm future and role look promising for a Baltimore squad that just set an NFL record for rushing yards in 2019.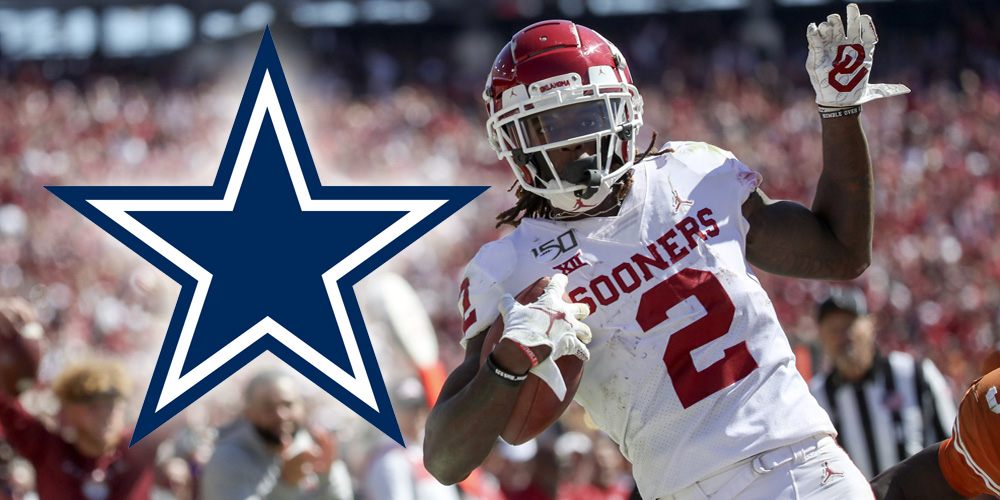 CeeDee Lamb dominated as an outside receiver at Oklahoma, where he led the nation in yards per target (15.1) and earned consensus All-American honors. An explosive, big-play threat who was a nightmare producing yards after the catch, Lamb is versatile enough to play outside or be a dangerous over-the-middle weapon from the slot that is big enough (6-2) to win contested-catches and jump balls. Expect Lamb to replace Randall Cobb as the primary slot receiver in Dallas but he'll also take plenty of snaps from the perimeter and also be potent on end around and in the return game.
Amazingly, Cam Akers was the only Florida State player even drafted in 2020- a far cry from the Seminoles' days of being a premier program. Akers had a solid final year in Tallahassee, rushing for 1,184 yards, snagging 30 passes, and scoring 18 touchdowns behind a haggard offensive line and poor quarterback play. With good size (5-10, 217), speed (4.47), and underrated power, Akers profiles as the top back now in Los Angeles, who cut ties with Todd Gurley this offseason. A timeshare is highly likely, but Akers has the most talent in the Rams' backfield and should be able to emerge as the starter soon rather than later.
Depending on who you ask, it's close between CeeDee Lamb and Jerry Jeudy as to who is the best prospect in a deep 2020 group of incoming rookie wideouts. Jeudy (6-1, 193) has good size to go along with 4.45 speed. But where the former Alabama star makes a name for himself is with superb route running and the ability to consistently create separation. This led to Jeudy routinely getting himself open for big gainers against solid SEC defensive backs. Though not quite as big or strong, Jeudy's footwork has drawn Keenan Allen comparisons. The Broncos did a solid job of adding offensive talent, so if second-year QB Drew Lock is able to post credible weekly fantasy numbers, Jeudy can be an immediate impact WR3/4.
No team had a worse receiving corps than the Eagles, who nabbed Jalen Reagor with the 21st pick in Round One. Reagor should act as a complement to Alshon Jeffery and DeSean Jackson as a straight-line speed threat out of the slot. Reagor posted a 42-inch vertical at the Combine, which along with a 99th-percentile speed score of 140.4, showcased his athleticism. The Eagles also added Boise State WR John Hightower in the fifth and sixth-rounder Quez Watkins from Southern Miss, but Reagor has the potential to emerge as the team's No. 1 receiver as early as 2020 or 2021.
Justin Jefferson parlayed a huge junior season at LSU (111 receptions for 1,540 yards) into the No. 22 overall pick by the Vikings, who were in need of a starting wideout after trading Stefon Diggs to Buffalo. Jefferson dominated out of the slot for the national champs but offers plus size (6-1, 202) and speed (4.43) and is versatile enough to play from the perimeter or inside for Minnesota. A precise route runner, Jefferson has a clear path to an immediate starting role for a Vikings squad that typically throws for around 30 touchdown receptions annually. He's a dark horse to be the most productive rookie wide receiver right out of the gate.
Henry Ruggs was the first wideout to be selected in the 2020 NFL Draft, landing in Las Vegas with the 12th pick. Ruggs was overshadowed by Alabama teammates Jerry Jeudy and Devonta Smith but became the prototype Raiders' wide receiver by blazing a Combine-best 4.27-second 40-yard dash. A tad undersized at 5-11 and 188 pounds, Ruggs averaged a whopping 13.5 yards per target and produces a 90th-percentile speed score (110) and a 136.9 burst score that was in the top-2 percent. Ruggs is an elite over-the-top speed threat who is going to command extra attention from NFL safeties. While his upside as deep-threat is obvious, Ruggs may have issues shaking tight coverage from larger cornerbacks and landed with a Raiders squad that ranked near the bottom of the league in downfield passing.
| | | | | |
| --- | --- | --- | --- | --- |
| RANK | PLAYER | POS | TEAM | RD(PICK) |
| 11 | Michael Pittman | WR | Indianapolis Colts | 2(34) |
| 12 | Ke'Shawn Vaughn | RB | Tampa Bay Buccaneers | 3(76) |
| 13 | Denzel Mims | WR | New York Jets | 2(59) |
| 14 | Tee Higgins | WR | Cincinnati Bengals | 2(33) |
| 15 | Brandon Aiyuk | WR | San Francisco 49ers | 1(25) |
| 16 | Laviska Shenault | WR | Jacksonville Jaguars | 2(42) |
| 17 | Joe Burrow | QB | Cincinnati Bengals | 1(1) |
| 18 | Bryan Edwards | WR | Las Vegas Raiders | 3(81) |
| 19 | Zack Moss | RB | Buffalo Bills | 3(86) |
| 20 | Van Jefferson | WR | Los Angeles Rams | 2(57) |
If Michael Pittman (6-4, 223) can quickly develop a red-zone rapport with new QB Philip Rivers, he's got a real shot at leading all rookie wideouts in touchdowns in Year One. The son of former NFL running back of the same name, Pittman snagged 101 receptions for USC in 2019 and has the size, physicality, and catch radius to make an immediate impact for a Colts squad that hasn't had much depth outside of T.Y. Hilton.
Ronald Jones dynasty owners rejoiced after the first two rounds but when Jason Licht and Bruce Arians selected Vanderbilt RB Ke'Shawn Vaughn in Round 3, Jones was immediately put on notice. Despite playing on an overmatched Commodores squad that faced a brutal SEC schedule, Vaughn excelled as the school's starter. He posted consecutive 1,000-plus yard seasons while showcasing a tough, physical style and good vision. Vaughn also snagged 28-of-38 targets and has the patience and one-cut ability to be an effective early-down back in Bruce Arians' potent offense. After two lackluster seasons, Jones is on notice, and Vaughn is looking like a potential fantasy sleeper. NFL
Laviska Shenault checks all the boxes for a quality NFL receiver. He's big (6-2, 227), strong, versatile, fast (103.2 speed score), and knows how to use his frame to win contested catches. NFL.com draft analyst Lance Zierlein comped Shenault to Sammy Watkins and like Watkins, injuries have been a concern. Shenault's physicality led to numerous injuries at Colorado, including a core muscle surgery that took place prior to the NFL Draft. While Shenault has the physical tools to be a solid fantasy WR3, landing on the rebuilding Jaguars wasn't ideal for immediate fantasy production. While still a top-10 wideout in this deep class, committing an early second-round rookie pick on Shenault should be viewed as a future investment more than as reinforcements for 'win now' squads.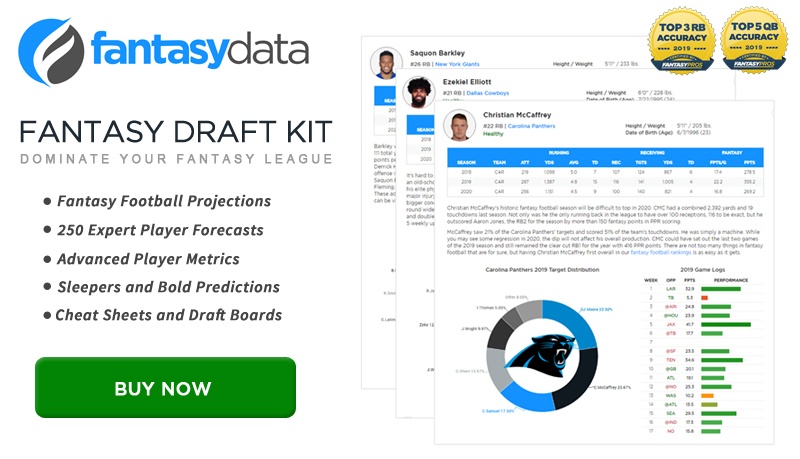 The reigning Heisman Trophy winner, Joe Burrow put up video game numbers for the national champion LSU Tigers. In 15 games, Burrow threw for 5,671 yards and 60 touchdowns while also rushing for 368 yards and an additional five scores. Burrow has elite accuracy, an uncanny ability to scan and read the field, superb poise and timing, and is an underrated scrambler who is likely to post top-10 QB rushing stats right out of the gate. New head coach Zac Taylor is expected to utilize a lot of '11' formations and is working with Burrow to add the rookie's favorite concepts and plays into Cincinnati's playbook. Burrow is going to be handed the keys to an offense that has some solid weapons and has the potential to put up QB1 numbers as early as Year One.
Van Jefferson has NFL bloodlines and was selected by the Rams with the pick they acquired from the Texans via the Brandin Cooks trade. It's probably not just a coincidence, as Jefferson has the size, toughness, and footwork to be a quality slot receiver for a Los Angeles squad that is always among the league leaders in running three-wide sets. Jefferson is one of the best values in this rookie class as he was selected by the Rams much earlier than had been anticipated and his ADP is still quite low. Jefferson had rather modest production at Florida but is walking into a potentially significant role right away, which makes him an excellent target in the third round of rookie drafts.
| | | | | |
| --- | --- | --- | --- | --- |
| RANK | PLAYER | POS | TEAM | RD(PICK) |
| 21 | Antonio Gibson | WR | Washington Redskins | 3(66) |
| 22 | Tua Tagovailoa | QB | Miami Dolphins | 1(5) |
| 23 | A.J. Dillon | RB | Green Bay Packers | 2(62) |
| 24 | Anthony McFarland | RB | Pittsburgh Steelers | 4(124) |
| 25 | Chase Claypool | WR | Pittsburgh Steelers | 2(49) |
| 26 | Justin Herbert | QB | Los Angeles Chargers | 1(6) |
| 27 | Darrynton Evans | RB | Tennessee Titans | 3(93) |
| 28 | K.J. Hamler | WR | Denver Broncos | 2(46) |
| 29 | Devin Duvernay | WR | Baltimore Ravens | 3(92) |
| 30 | Adam Trautman | TE | New Orleans Saints | 3(105) |
Tua Tagovailoa hopes to break Miami's long drought of drafting and developing a franchise quarterback. Talovailoa is a perfect fit as a modern NFL signal-caller, combining arm strength and accuracy with excellent running skills that will make him a dangerous dual-threat option. Since taking over as the starter for Alabama during his sophomore season, Tagovailoa had an impressive 76-to-9 TD-to-INT ratio for the Crimson Tide and finished his career with an NCAA record 12.7 adjusted yards per attempt average. The sky is the limit for Tagovailoa but the biggest question mark for early dynasty drafters is if the Dolphins will stick with veteran journeyman Ryan Fitzpatrick as the starter to give their new franchise passer a 'redshirt' season.
With reigning NFL touchdown leader Aaron Jones in the fold, Green Bay's second-round selection of Boston College bruiser A.J. Dillon was a bit of a head-scratcher- not the first by the Packers during the draft. But with Jones and Jamaal Williams both set to become free agents following the 2020 NFL season, Dillon's path to a potential starting gig makes him an intriguing dynasty target. At 6-feet and a whopping 247 pounds, Dillon posted 97th-percentile speed and burst scores at the Combine. With three consecutive 1000-plus yard seasons at BC, Dillon is a forceful inside runner with superb power and under-developed abilities as a receiver. His arrival could prove to be problematic for Jones' short-yardage role as soon as this season, but if the Packers choose to not re-sign their incumbent, Dillon could be on the RB2 radar as early as 2021.
Like Dillon, Anthony McFarland joins a crowded backfield, but McFarland may have a clearer path to immediate playing time. James Conner hasn't been able to stay on the field and the Steelers went through numerous reserves last season. McFarland Is on the small side (5-8, 208) but is a fast and agile power with underrated power. McFarland broke off plenty of huge plays at Maryland and showed enough in the passing game to be capable of playing all three downs in the pros. Unfortunately, McFarland has also had his fair share of injuries and is a work in progress as a pass protector. He'll likely be used as a change-of-pace option early on, but McFarland has enough upside to warrant second or third-round considerations in rookie drafts.
Coming into the draft, I felt like Texas WR Devin Duvernay was one of the most overlooked prospects of the offseason. Duvernay shined out of the slot for the Longhorns, finishing second in the nation with 102 receptions and averaging 108.3 receiving yards per game. What really stood out to me, though, was what Duvernay did as a runner, breaking 17 tackles and leading the country with 372 yards after contact. While the landing spot with the league's premier rushing offense wasn't necessarily ideal, but with only Miles Boykin and Willie Snead, who is playing on a one-year deal, ahead of him on the depth chart Duvernay looks like an excellent third-round dynasty rookie target.
Adam Trautman won't start in 2020 ahead of Jared Cook but the Saints are known to use plenty of formations and Trautman projects as a plus blocker and pass-catcher. Trautman showed elite agility as a tight end, posting an 11.05 agility score and running a solid 4.80-second 40-yard dash. While Cook remains ahead of Trautman on the depth chart, Josh Hill parlayed his back-up role into 35 targets last year and isn't the downfield threat that Trautman was at Dayton. He's a solid prospect to nab at a tight end spot that remains very thin in fantasy football.
| | | | | |
| --- | --- | --- | --- | --- |
| RANK | PLAYER | POS | TEAM | RD(PICK) |
| 31 | Lamical Perine | RB | New York Jets | 4(120) |
| 32 | Lynn Bowden | WR | Las Vegas Raiders | 3(80) |
| 33 | Cole Kmet | TE | Chicago Bears | 2(43) |
| 34 | DeeJay Dallas | RB | Seattle Seahawks | 4(144) |
| 35 | Eno Benjamin | RB | Arizona Cardinals | 7(222) |
| 36 | Jordan Love | QB | Green Bay Packers | 1(26) |
| 37 | Antonio Gandy-Golden | WR | Washington Redskins | 4(142) |
| 38 | Joshua Kelley | RB | Los Angeles Chargers | 4(112) |
| 39 | Tyler Johnson | WR | Tampa Bay Buccaneers | 5(161) |
| 40 | Devin Asiasi | TE | New England Patriots | 3(91) |
Predictably, Le'Veon Bell played quite poorly last season and the Jets have little depth behind their aging starter. Enter fourth-rounder Lamical Perine who led Florida in rushing from 2017-2019 and showed surprisingly solid receiving chops by snagging 40 passes in 2019. Perine has good size (5-11, 216) but didn't test particularly fast (4.62) or athletic at the Combine but has well-developed blocking skills and is a decisive, short-yardage grinder. If Bell were to eventually get traded or released, Perine could work his way into the mix in New York, making him a decent middle-round dynasty target.
Cole Kmet was widely viewed as this drat's top tight end but ended up in a less-than-favorable situation behind newly-signed Jimmy Graham in Chicago. Still, Kmet is a dynamic athlete who profiles as a solid in-line blocker who is still developing as a receiver and potential downfield threat up the seams. Measuring in at 6-5 and 255 pounds, Kmet ran a 4.70 and had an 88th-percentile burst score. Selecting Kmet in your dynasty draft should be considered a future investment but he's got all the physical tools to develop into one of the league's better tight ends.
Nobody thought the Packers would trade up to draft a quarterback, but that's exactly what happened when they drafted Jordan Love at 26. While Aaron Rodgers isn't the same player that he once was, Green Bay needed to upgrade their pass-catching weapons and instead took a developmental quarterback with accuracy woes who made plenty of ill-advised throws. Reports later came out that head coach Matt LaFleur was tired of Rodgers' diva attitude which necessitated the "statement" pick of Love. This looks like a situation to be very wary of and is puzzling for a team that made it to the NFC Championship. Love has little relevance in redraft but has modest value as an investment in 2QB leagues.
Joshua Kelley posted consecutive 1000-yard rushing seasons at UCLA but slid into the fourth round due to modest Combine results and a subpar athleticism. However, Kelley has a good blend of size (5-11, 212), speed (4.49), strength (23 bench press reps), and vision. Kelley wasn't asked to do much as a receiver with the Bruins but is a willing blocker who did a decent job reeling in passes when called upon. If Kelley can make a good showing this summer and move ahead of Justin Jackson on the depth chart, he's got a real shot at being an excellent late-round steal in fantasy leagues.
When Bill Belichick trades up to select a player, fantasy footballers take notice. That's especially true if that player happens to be a tight end that could possibly fill the void left by Rob Gronkowski's departure. Enter No. 91 overall pick Devin Asiasi, who profiles as a dangerous downfield receiver that averaged 15.2 yards per catch at UCLA. Asiasi is a work in progress as an in-line blocker but has the size (6-3, 257), catch radius, and route running to develop into a dangerous receiving threat up the seams that will be a nightmare for linebackers and undersized cornerbacks. Josh McDaniels is always changing his offense to fit the strengths of his players but if Asiasi shows well this summer, he could easily become a fairly significant part of the new look Patriots.
| | | | | |
| --- | --- | --- | --- | --- |
| RANK | PLAYER | POS | TEAM | RD(PICK) |
| 41 | Jalen Hurts | QB | Philadelphia Eagles | 2(53) |
| 42 | Donovan Peoples-Jones | WR | Cleveland Browns | 6(187) |
| 43 | Quintez Cephus | WR | Detroit Lions | 5(166) |
| 44 | Gabriel Davis | WR | Buffalo Bills | 4(128) |
| 45 | Albert Okwuegbunam | TE | Denver Broncos | 4(118) |
| 46 | Collin Johnson | WR | Jacksonille Jaguars | 5(165) |
| 47 | Brycen Hopkins | TE | Los Angeles Rams | 4(136) |
| 48 | Isaiah Hodgins | WR | Buffalo Bills | 6(207) |
| 49 | Harrison Bryant | TE | Cleveland Browns | 4(115) |
| 50 | John Hightower | WR | Philadelphia Eagles | 5(168) |
Carson Wentz hasn't been the healthiest quarterback but it was still surprising to see the receiver-starved Eagles draft former Alabama and Oklahomas quarterback Jalen Hurts in the second round. Hurts is still a work in progress as a passer but has improved his accuracy and is an outstanding athlete who can be an immediate threat in short-yardage as both a runner and RPO passer. And that might be exactly what the Eagles have in mind for their rookie quarterback, a red zone role that could take valuable snaps away from Wentz and RB Miles Sanders. Hurts is worth a look for Wentz owners who can roster a back-up and has some decent value as a better Taysom Hill.
Donovan Peoples-Jones projects as a big slot receiver in the pros and will have trouble earning enough snaps early on to be fantasy-relevant in Cleveland. Still, his 145.2 (99th percentile) burst score, frame, and speed/size combo make him an intriguing stash dynasty stash. Fantasy leaguers who play in leagues that reward return yards may want to boost Peoples-Jones up a round as he projects to be a plus sepecial-teamer in the NFL.
No. 3 overall pick Jeff Okudah dismissed the innocuous Combine results posted by Quintez Cephus and named the former Wisconsin Badgers' pass-catcher as the best wide receiver he faced at Ohio State. Cephus has excellent size but ran a disappointing 4.73 40. He knows how to use that size to shield off defenders and can be a dangerous run-after-catch weapon. The Lions don't have much depth after Kenny Golladay, Marvin Jones, and slot man Danny Amendola, so Cephus has a real shot at securing WR4 duties as a fifth-round rookie.
The Bills aren't going to be one of the better passing teams in the league but have a relatively thin receiving corps after Stefon Diggs, John Brown, and Cole Beasley. Fifth-round UCF rookie Gabriel Davis offers an intriguing size/speed combination (6-2, 216, 4.54) and just turned 21. Sixth-rounder Isaiah Hodges is huge (6-4, 210) and put up an excellent 86/1,171/13 line at Oregon State in 2019. Both first-year wideouts will be competing for a roster spot and are worth a late-round look in rookie-only drafts.
John Hightower wasn't dominant at Boise State but has plus size (6-2, 189) and ran a 4.43 40 in Indianapolis. Additionally, Hightower blazed a 1.49-second 10-yard split which showcased good burst separation ability. With Philadelphia's entire receiving corps facing a major shake-up, this fifth-round rookie could conceivably play his way into a reserve role as early as 2020, which makes him worth a late-round stab in dynasty drafts.
---
Dominate Your Fantasy League in 2020!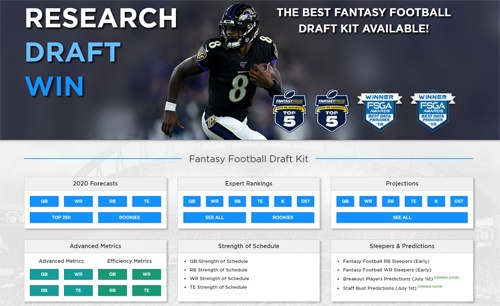 FantasyData has just launched it's exclusive 2020 Fantasy Football Draft Kit to help you prepare and destroy the upcoming NFL Fantasy season. Get expert projections, rankings, cheat sheets, and over 250 player forecasts for the season. FantasyData also is the home to some of the most advanced metrics in the industry.
Fantasy Football Rankings
Fantasy Player Projections
Strength of Schedule
Advanced Metrics
Cheat Sheets
250 Player Forecasts
STAY IN TOUCH
Sign up for FantasyData's newsletter and get awesome content sent to your inbox.
We'll never share your email address and you can opt out at any time, we promise.
---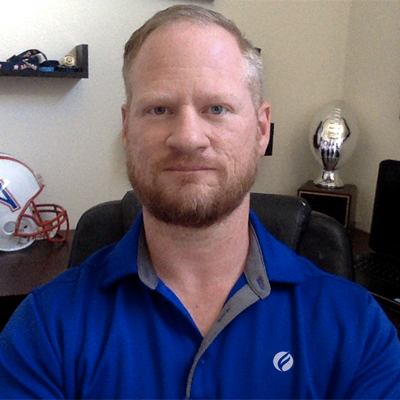 Jody is a member of both the Pro Football Writer's of America (PFWA) and Fantasy Sports Writer's Association (FSWA) and has been covering the NFL and fantasy football for over a decade. Jody won FantasyPro's Most Accurate Expert contest and also garnered the FSTA's accuracy award in 2012. A Houston native, Jody has covered the Texans locally since 2016 for both digital and radio audiences. Past writing stops include CBS Sportsline, Gridiron Experts, Pro Football Focus, Fanball, FantasyPro's. Jody is also a frequent guest on SiriusXM and Houston radio and his work regularly appears in print on newsstands each summer.