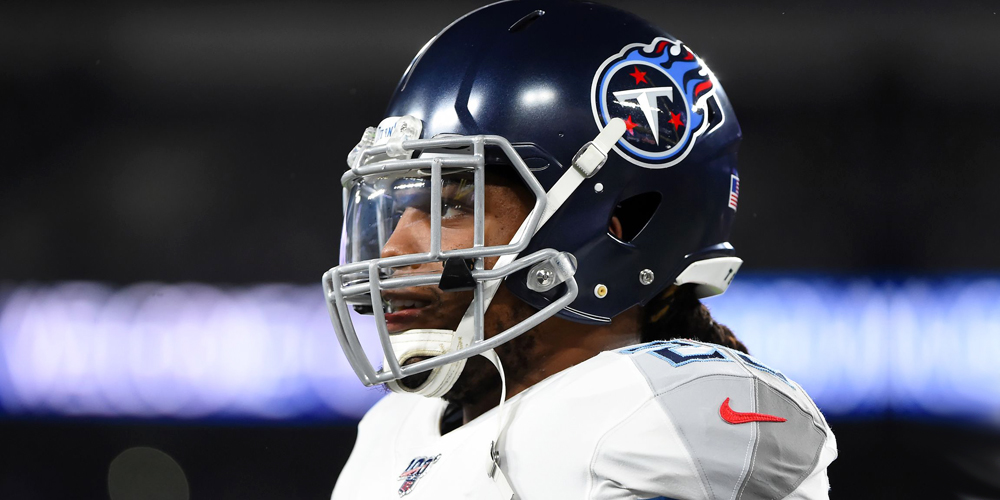 DraftKings Picks Week 17: Chalk, Pivots, and Punts
---
DraftKings NFL Picks
INITIAL THOUGHTS
Week 17 is both exciting and bittersweet. We get a nice 15 game slate but it's the last week of full slates for the rest of the year. Some of us will see our favorite teams moving onto the playoffs while the rest of us (me) will have to wait for next year to see our team play again. Week 17 is notoriously tricky with teams resting starters and other teams or just individual players playing for fleeting playoff hopes or contract incentives or a new free-agent contract, while others don't have anything to play for and could come out flat this week. There are several teams I am watching and/or will approach with a great deal of caution this week. The Chiefs without Mahomes could mean others rest or are pulled early. The Steelers (resting Roethlisberger) may start to rest offensive players if they pull well ahead of the Browns. The Bills may not play their starters a full game. The Packers, Saints, and Seahawks could be scoreboard watching each other because if Green Bay wins, the Saints and Seahawks have nothing to play for. Bruce Arians says he is playing to win this week and I am inclined to believe that, for now. Teams like Jacksonville and the NY Jets could limit the playing time of their regular starters to see what the rest of the roster has to offer for 2021. I'd expect teams with interim coaches to give it a full fight, which are teams like Atlanta, Houston, and Detroit who may be without Stafford, which dampers things. As always, #TheWorkbook is created and ready for your perusing, including the popular Positional Matrices tabs. Those tabs reveal some teams/units that are in smash spots. Using those matrices, the matchup chart, my understanding of how teams play, and some game theory, it's time to dig in and see what to make of this final full slate of 2020.
Here is the chart of who I think will be Chalk (Good & Bad), some Pivot ideas, and if needed, Punt plays.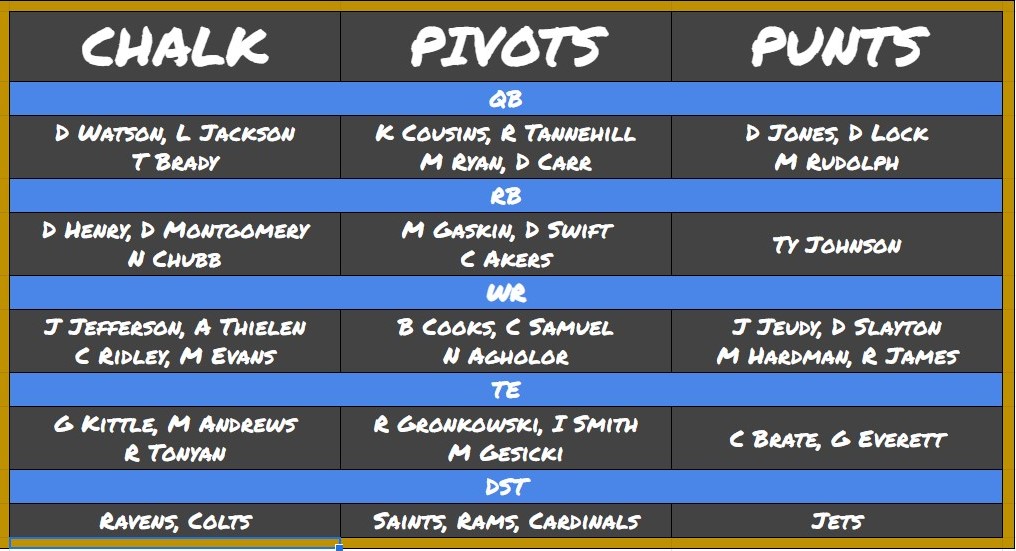 QUARTERBACKS
BEST BETS: Lamar Jackson, Deshaun Watson, Tom Brady
PIVOTS: Ryan Tannehill, Kirk Cousins, Matt Ryan, Derek Carr
PUNTS: Daniel Jones, Drew Lock, Mason Rudolph
Lamar Jackson and the Ravens can get into the playoffs with a win, which is the typically preferred method. Jackson shows up 9th on the QB Matrix while his TE (Andrews) has the 5th spot on the TE Matrix. Jackson was in a slump the first time he played the Bengals but with a "win to get in" scenario in front of him, he should look a lot like Deshaun Watson did last week against Cincy. There are two concerns I have with Jackson that may take him off my list this week. One is his team runs a very limited amount of offensive plays, which has declined even more as of late. Over the Ravens last 5 games, they have run 54 or fewer plays 4 times. Then we look at the Bengals defense and they have allowed 50 plays per game over their last three. This could be a very slow-paced game with not enough plays for Jackson to get there. Or, this could be a blow-out game and he sits down for some of the 4th quarter. Deshaun Watson is also in a very good spot to put up one of, if not the highest QB score of the week. The Titans defense has been one I've picked on all year and it has worked more often than not. There has been chatter about whether or not Watson is going to play this week but as of now, it seems likely he will and he'll want to go out on a high note - but that will be up to his defense more than his terrific play. The Atlanta defense has faced 44, 45, and 45 pass attempts in their last three games, one of those games was Tom Brady throwing 45 times. With how well the Falcons defend the run and how bad Tampa has been running the ball, we can reasonably expect a similar amount of pass attempts for TB12 and with three 300-yard games in his last three, Brady is also likely to register the 3-point DK bonus again here.
Ryan Tannehill is a leverage play off of the Derrick Henry chalk, or even a stacking partner with him. The TEN/HOU game has the highest projected total on the slate with the Titans expected to score 32 points. If that means 4 touchdowns for Tennessee and Tannehill keeps sniping Henry's rushing TDs (he has 3 in the last two games) and/or throws at the goal line when the defense is expecting a Henry rush he could score all 4 of those TDs. With Dalvin Cook set to miss this week the Vikings could choose to rely on Kirk Cousins and the receiving group a little more against this atrocious Detroit secondary. Cousins scores highest on the QB Matrix this week but the Minnesota RBs are also in the top spot making this a two-way go. However, if we remember the last time Cook was out, Mattison disappointed and he's not at full health this week. If the field chases the "Vikings RB in a great spot" data, then I like this leverage by pivoting to Cousins a lot more. If Atlanta has a tougher time controlling the Bucs offense than they did with a Chiefs offense that seemed to already be protecting players then their offense is going to have to do more to keep pace with Brady's offense. In this case, Matt Ryan becomes a nice pivot at a sub-$6k price tag. Ryan had to throw 49 times last time he faced Tampa and he put up 30 DK points in that game. Derek Carr is going to play this week and gets to face a defense that is missing their top 3 corners to start the season, leaving them with rookies and waiver wire pick-ups. Opposing teams have been picking on this group to the tune of a 65% pass rate over Denver's last three games. Volume should be there for Carr in this game but the passing volume against Denver the past 3 weeks has only given Josh Allen a terrific scoring output.
Daniel Jones has not been a reliable fantasy asset this year but could surprise in this spot. The Cowboys pass defense has allowed over 300-yards passing in their last two games to Jalen Hurts and the 49ers duo of Mullens/Beathard. This is a game where both teams need to win and then wait for the Sunday night game to decide their fate, meaning both sides will be going all out. The Raiders should be playing from in front most of the game versus Denver which should force Drew Lock into some added volume this week. Denver has a Vegas implied total of 24 points which bodes well for Lock to potentially lock in all three TDs. His WRs are super cheap this week, too, making this a great value stack. Mason Rudolph will start this week against his favorite team and "buddy" Myles Garrett. That incident aside, the Steelers are not risking injury for the third seed in the playoffs while the Browns will be looking to win, otherwise, the Colts are likely to take their playoff spot with a win in Jacksonville. Other scenarios could get the Browns in but a win is the simplest way to go. That being said, Rudolph will take over an offense missing its starting center (rest) and is devoid of a sustainable run game, meaning Rudolph should be throwing. It's unclear how long the starting WRs will play so if punting with Rudolph it might be wise to use Claypool or Washington in case Johnson and JuJu get pulled. Reasons for optimism with this play will be Cleveland's defense allowing 20.1 FPA to QBs, a 17.2% pass DVOA (8th-worst), 36 pass attempts allowed for the year despite playing several low pass volume teams, and the Browns had to place their two starting safeties on the Covid-19 list which could further open things up for Rudolph.
RUNNING BACKS
BEST BETS: Derrick Henry, David Montgomery, Nick Chubb
PIVOTS: Miles Gaskin, D'Andre Swift, Cam Akers
PUNTS: Ty Johnson
Derrick Henry will be mega-chalk this week against the Texans defense that has allowed the most fantasy points to RBs and the second-most rushing yards in the league. The Texans also rank 4th-highest in rushing TDs allowed per game. Henry ran for 212 yards and scored 2 TDs in his first meeting with Houston this year and in last season's finale, Henry ran for 211 yards and 3 TDs, so he's no stranger to trucking these guys. Henry will need an encore of those performances to reach a 4x score this week. Tennessee has to win to ensure they make the playoffs this year so Henry should be involved all game, as long as the score remains close enough to ride him.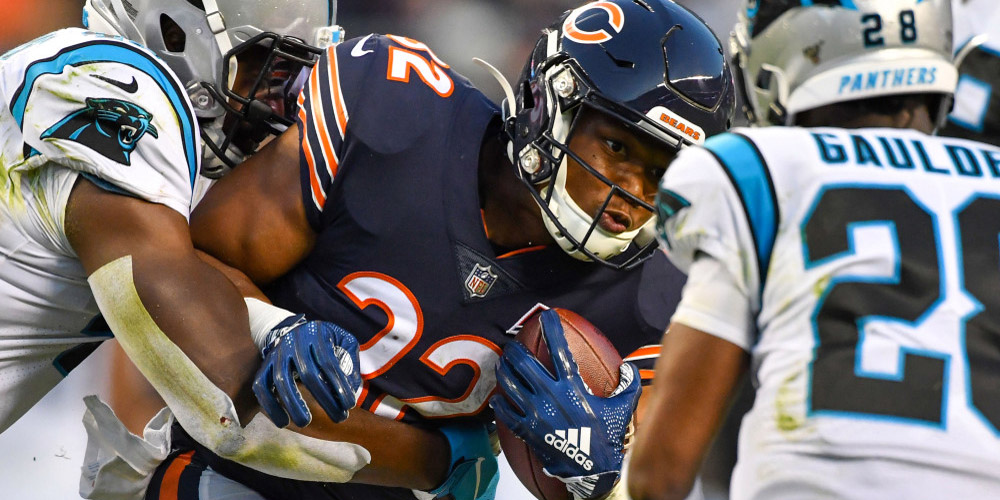 David Montgomery isn't a lock for high production this week but he comes in with a 5 game streak of 20 or more fantasy points giving him a bankable floor. The last time he faced Green Bay he had 103 yards on just 11 carries, most of which was gained on a 57-yard run. He'll have to touch the ball more if he's going to get there this week, as 57-yard carries have only happened twice in his career, the one against Green Bay and an 80-yarder against Houston a few weeks ago. At his price, we would prefer a 30-point score but the potential of a 20-point floor keeps him in play. Nick Chubb should be in line for plenty of work against a Steelers run defense that has been recently gashed by the Bengals and Colts running backs and will now be without two key defensive players (Heyward and Watt). Chubb may be without his starting center but could see his beastly RG Wyatt Teller return, along with left tackle Jedrick Willis. In this must-win game for Cleveland, I'd expect them to stick to their bread and butter of hammering Chubb into the defense for 5+ yards per carry.
When he's healthy, Miles Gaskin is the clear alpha in the Dolphins backfield and he gets to take on a defense that is weaker against the run than they are versus the pass, and they may start resting starters at some point if they haven't already started the game with them getting the day off. Even with a fully staffed defense, we've seen the Patriots and Broncos chew them up for over 140 yards on the ground and Gaskin can be a threat in the passing game, as evidenced last week. D'Andre Swift was named the starter for this week against a defense that has allowed 16.9 or more fantasy points just by rushing yards over the past three weeks and let Kamara go berserk against them last week. It's hard to imagine Bevell wanting to get a better look at Peterson or Kerryon for next year when he needs to give Swift all he can eat to see what he's going to be. Swift may have Stafford back to keep the defense honest and even if he's not, he should be the focal point of any Chase Daniel-led offense. The field is likely going to be hesitant to play Swift with his inconsistent usage this year which could allow us to get him at lower ownership. If Cam Akers is healthy he should be in for a huge workload with Goff out. Shanahan disciple McVay will have noted what the 49ers did on the ground against Arizona last week and will have the muscle memory to replicate that type of attack from designing similar attacks of his own. With Darrell Henderson placed on IR, it opens up Akers to a massive workload as it is but with Wolford at QB, McVay is likely going to try to run as much as possible to win this game and lock in a playoff spot. Ty Johnson finds himself in a very good spot this week against a Patriots defense that has allowed the worst rushing DVOA (per Football Outsiders) and 132.8 rushing yards per game (6th-most) to opposing running games. With Gore on IR and Perine out with Covid, Johnson has a chance to take a bell-cow workload for a coach that would rather run the ball and Just End The Season.
Other RBs considered this week include Alvin Kamara (68 yards away from his first 1,000-yard rushing season, but how long will he play?), Jonathan Taylor (in a smash spot against the Jaguars, but how long will he need to play?), David Johnson (has high output over the last two weeks on less than ideal volume - still likely to make the player pool), Josh Jacobs (had his best game of the year against Denver and is an interesting arb play if you're looking for a cheaper version of Derrick Henry's rushing yards and touchdowns role), Alexander Mattison (probably chalky play that disappointed last time he started for Cook and could be more of the lead in a three-headed RBBC this week), Melvin Gordon (teams have decidedly taken more to, the ground against the Raiders in their last 5 games with a 49.6% run ratio but Gordon has been disappointing even in good spots this year).
WIDE RECEIVERS
BEST BETS: Calvin Ridley, Justin Jefferson, Adam Thielen, Mike Evans
PIVOTS: Brandin Cooks, Nelson Agholor, Curtis Samuel
PUNTS: Mecole Hardman, 49ers WRs, Broncos WRs, Darius Slayton, Marquez Callaway, Van Jefferson
Calvin Ridley already torched the Buccaneers defense this year and the way their defense (and Atlanta's offense) tilt toward the pass make him likely to do similar things this week. The Vikings WRs (Justin Jefferson and Adam Thielen) top the WR Matrix this week and are excellent leverage if the field is chasing Alexander Mattison thinking they're getting Dalvin Cook production for $6100. Everything aligns for these guys to go ham and with their offense so concentrated on them and Irv Smith, 2 of this trio are likely to have games we'll want in our lineups this week. Mike Evans will see elevated ownership after his week 16 destruction of the Lions secondary (added reason to like the Vikings WRs) but he is in another smash spot this week against the Falcons pass funnel defense that is getting better but not ready to stop this passing attack. Evans is third (behind Thielen and Ridley) with 15 End-Zone targets and has become Brady's go-to receiver in Tampa.
Brandin Cooks might be my favorite WR play this week for the value. He's in a matchup I like to pick on (against Titans corners) and plays with a QB that will target him plenty enough to pay off his salary. Texans WRs take the second spot on the WR Matrix with their only non-green box being their Vegas implied total, which is still 3 TDs worth of scoring. If the Raiders play to take advantage of the thin cornerback depth of the Broncos, then Nelson Agholor should be the prime beneficiary. Agholor has been the #2 option after Darren Waller and can efficiently maximize his targets as he is 7th in fantasy points per target. With CMC and Mike Davis out, expect a few extra plays with Curtis Samuel coming out of the backfield. He played a season-high 10 snaps back there last week and combined 5 targets with 7 carries for 23 DK points. New Orleans allows the second-highest percentage of WR points to flow through the slot and with CJGJ on the Covid list it could open up even more for Samuel here.
If Kansas City is resting Tyreek and Sammy but allowing Mecole Hardman to play, then I'll have some interest in playing him as a high upside punt. Hardman has seen 15 targets behind the starters over the past two weeks but hasn't had anything pop for him yet. This week he's not facing an easy defense to have a big game against and will be playing with a downgrade at QB but his speed and talent could create just that one play we need for his score to make a difference. He also returns kicks, giving him an added opportunity. The Seahawks have a tough run defense and will force the 49ers to the air more than they will want to. With Deebo and Aiyuk out, it leaves Kendrick Bourne and Richie James to fight over whatever targets Kittle and McKinnon don't get, which may not be much. One of these guys is likely to post a score that will allow us to spend down on them and use that salary to gain an edge somewhere else in the build. I'm leaning toward James at the moment. The Raiders have seen teams try to run the ball against them more often over their last 5 games but if they have a large enough lead to put the ball into Drew Lock's hands, then we have some cheap plays to take advantage of. Jerry Jeudy at $4200 seems drastically low until you look at his lack of production but then you see 15 targets last week and there's hope he could hit if given similar volume. The other receiver to note here is whichever player between KJ Hamler or Daesean Hamilton plays in the slot since the Raiders have the highest percentage of WR points filter through slot WRs with 46% of all WR scoring happening there. Tim Patrick is also in play. Darius Slayton has seen 8, 9, and 8 targets the past three weeks (last week was without Tate) and hasn't had the production match, yet. His deep-threat role always keeps him in my initial run-through of a slate he's on because he can hit on any given play. This game will be a dog-fight and Slayton has already torched Dallas once this year. The Saints lack of depth at WR means they are not likely to pull Marquez Callaway off the field at any point. The Panthers have nothing to play for which could allow the defense to play lackadaisical and give one of the Saints WRs a score we want for their price. At $3200, Callaway could be a nice punt this week. Van Jefferson will see the field this week with Kupp out and may have a "second-team reps" connection with the starting QB this week (Wolford).
Other WRs considered this week include DK Metcalf (already went bananas against the 49ers this year and their secondary is still banged up), Tyler Lockett (he was who I thought would kill the 49ers last time they played, it's possible that happens this time around - SF has allowed 17 or more points through the slot in 4 of their last 5 games), A.J. Brown and Corey Davis (provide interesting leverage off of Henry in a Tannehill stack), Marvin Jones (as long as Stafford plays, I like Jones as a wily vet against the Vikings inexperienced cornerback group), Russell Gage (should pick up some extra targets against the Bucs pass funnel but he hasn't had any 20+ point games since week 1), Jacobi Meyers (seems to be the only WR worth playing for the Patriots and faces one of the worst secondaries in the league, if only he had a QB), Mike Williams (Keenan is expected to miss this week and if the Chief rest any defensive starters then I'll like Williams even more), Laviska Shenault and Keelan Cole (have a tiny bit of appeal as the Colts are weaker through the slot than outside WRs),
TIGHT ENDS
BEST BETS: George Kittle, Mark Andrews, Robert Tonyan
PIVOTS: Rob Gronkowski, Mike Gesicki, Irv Smith
PUNTS: Cameron Brate, Gerald Everett
At the top of the TE board this week there is Travis Kelce (who may not play or play a full game), Darren Waller (who seems a bit overpriced for this matchup), and George Kittle (who should be the primary read on most of the 49ers passing plays but comes at a discount compared to Waller). Just below Kittle, we can find Mark Andrews, who is in a must-win game and has been his QB's favorite target over the past two years. If Willie Snead misses this weak it could mean more targets on the inside for Andrews, who places 5th on the TE Matrix. "Baby Kittle" Robert Tonyan has a matchup with the team allowing the 3rd-most fantasy points to the TE position. If the Bears slow Adams down, as they did in Week 12, then this could be another 17+ point game for Tonyan.
The Falcons have allowed 11 or more TE targets in 4 games this year and over their last 4 games have seen an increase in TE targets from 8, to 8, to 11, to 14 last week. The Buccaneers TEs ( Rob Gronkowski and Cameron Brate) placed 2nd on the TE matrix and one of them could outproduce their salary in this spot. Mike Gesicki has been a more prominent figure in the Miami offense with the WR injuries they've faced. Whether or not Parker makes it back this week shouldn't matter too much for Gesicki against a defense that has allowed 20 or more fantasy points to the TE position in 6 of their games this year, including 30 to Gesicki in Week 2. Irv Smith has had two multi-touchdown games over his last 5 and has been a key player around the goal line for Minnesota. The threat of a Dalvin Cook TD plunge is off the table which may allow Detroit to focus on him ore in those situations but his role as the third option in that passing attack could still net a solid score. Gerald Everett is only $2700 this week and could provide a boost where the Rams will miss Kupp. I'd expect a run-heavy approach from the Rams this week and new starting QBs often find the TE when their first read isn't open.
DEFENSE/SPECIAL TEAMS
BEST BETS: Ravens, Colts
PIVOTS: Saints, Rams, Cardinals
PUNTS: Jets
The Ravens force so many turnovers that I always keep them near the top of the board for DST each week. The Bengals have been playing better lately but the playoff motivation that Baltimore will be playing with gives them an edge in this matchup. The Jaguars may be trying to look at the roster this week while the Colts are fighting for their spot (a spot) in the playoffs. The Jags are bad, the Colts are good. Sometimes it's that simple. The Saints may be fighting for the first-round bye in the playoffs (some Green Bay scoreboard watching included) and the Panthers may also be a team trying to evaluate the roster in their final, meaningless game with their top two ball-carries absent. Both sides of the Rams and Cardinals game have defenses in play. The Cardinals offense is sputtering to close the year while the Rams defense remains one of the better groups in the NFL. Murray has turned the ball over 6 times in his last 5 games, which will be a concern against a defense that will try to hide their backup QB on offense. The Cardinals blitz quite a bit and could cause Wolford to take some sacks or throw some interceptions. The Jets face a Patriots team with no playmakers and a struggling QB situation and look like the best of the under $2500 bunch at DST this week.
FINAL THOUGHTS
It's going to be an interesting week with lots of news hitting the wire up until game time causing everyone headaches trying to figure who's playing and for how long if they do. I'll keep evolving my player pool into Sunday morning as more info becomes available and I get into heavier roster-building mode and need to find alternates to the initial pool to fit pieces together. Until then, the write up above is where I'm at as of Thursday afternoon. Hope you all had a good 2020 fantasy season to make up for the crappy year we've had otherwise. As always, thanks for reading, and good luck this week!
STAY IN TOUCH
Sign up for FantasyData's newsletter and get awesome content sent to your inbox.
We'll never share your email address and you can opt out at any time, we promise.
---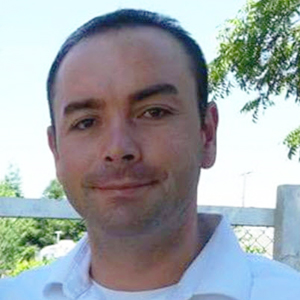 NorCal native Jesse Jones has been obsessed with fantasy football since first joining and winning a league in 1994. Always looking for an edge, Jess has been ahead of the curve mining data and building customized spreadsheet rankings and projections while others showed up to draft day asking for a pencil and a cheat sheet. As an avid NFL DFS, Bestball, and re-draft player Jess will work hard to find the edge you need to win in all formats. Jess is married to the wonderful wife of their 2 kids and enjoys traveling, playing tabletop games, and trying new craft brews. Let's make some money at this hobby of ours!