Tuesday MLB DFS Tips
---
MLB DFS Tips
Value is the primary variable that is coveted in DFS. Taijuan Walker could be your man on Tuesday, the right-hander, and the Mets head to Wrigley Field to take on the Cubs. Walker has shown some real progress in his first two starts this season, posting a 2.61 ERA through two starts. This is his first start on the road in 2021, and it comes against an inconsistent opponent in the Chicago Cubs. Despite the Cubs being tied for third in home runs in MLB, they have the worst team batting average in baseball with a .192 average.
Heading into the night game, the weather will be mostly under 40 degrees, with winds blowing around five mph. Walker is throwing the ball harder than he ever has around 97 mph and has been inducing a fair amount of ground balls at a rate of over 41%. It will also be seven days from his last start against the Phillies, in which he slowly started to lose control and left after 4 1/3 innings, despite not getting the win he struck eight batters in that span. Walker's career numbers have been solid while pitching with extra rest, he posts a 2.86 ERA, with a 2.86 SO/W, which is higher than his normal rest.
One of the main reasons the Cubs have been struggling so far at the plate is their high strikeout rate ranking eighth in baseball with 151 strikeouts in 464 at-bats, that's a percentage of 33%.
For two things that you need from a pitcher in DFS, there are strikeouts and innings pitched, if Walker is capable of striking out multiple Cubs batters, then he is in good shape to have a solid night. The only issue is worrying about a win from the Mets lineup due to their struggles with RISP. However, if Walker can give them six strong innings facing off against Arrieta, he could pull off a victory on top of the strong start.
Sticking to the windy city, former CY Young award winner Jake Arrieta is off to a terrific start with the Cubs in 2021. Arrieta hasn't given up more than three runs in any of his starts this season. Recording at least five strikeouts in two of his first three starts while grabbing two wins in the meantime, he has gotten off to a fast start.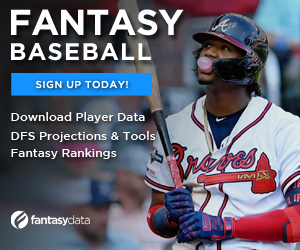 Last season he faced off against the Mets twice in September and won both matchups. It accounted for half of his wins last season while he recorded 11 strikeouts over 12.1 innings of work.
For the early part of this season, the Mets have struggled to get on a consistent amount of playing time, with having six games postponed in the first two weeks of the season. They rank 26th in baseball with a .194 average with runners in scoring position, despite being fifth in baseball with a .334 team OBP. Jake has done an outstanding job early on to limit teams from scoring with runners on with splits of .200/.300/.200. He has yet to give up an extra-base hit with runners on, the only issue that you might have to worry about with Arrieta tonight is his control can be a bit of an issue. Despite doing an impressive job with RISP, he has three walks within those 15 AB, but considering the Mets struggles at the moment, it shouldn't be too worrisome.
Ultimately there is some risk involved when you use two starters facing off against one another, but both of these guys bring good value given their early success. Both are currently priced at $7,900 (Arrieta) and $7,600 (Walker); this gives you plenty of flexibility for the rest of your lineup to fill in with some great hitting. Everyone will be on Corbin Burnes vs. Chris Paddack tonight, but due to their incredibly high salaries, so it isn't necessarily worth your time to allocate your budget towards those two.
If you can get Walker and Arrieta for a lesser price in pitcher-friendly weather, it would be perfect. The temperature outlook for tonight's game is described as "Freeze Warning," so the bats will have a difficult time.
STAY IN TOUCH
Sign up for FantasyData's newsletter and get awesome content sent to your inbox.
We'll never share your email address and you can opt out at any time, we promise.
---
Martino is a freelance writer for The Athletic for Soccer Sports Gambling and is also an Alumni of Iona College with a Masters degree in Sports Communications in Media. You can follow him on Twitter at @Martinopuccio.