MLB DFS Picks: Tips & Advice for Tuesday Slate
---
MLB DFS Picks
As the weather starts to warm up and players are finally getting into a groove on both sides of the ball, we can finally start going by some sample sizes to begin the season. For this Tuesday's slate, we have a bevy of pitchers ready to toss gems for their respective clubs. However, this day we have some tough decisions to make regarding the two pitchers required in DraftKings lineups. Last week I faded some of the upper echelon pitchers but this week I am going to change it back up a bit and head towards some of the top guys.
Let's start in Los Angeles with Walker Buehler, the young Dodgers star is one of the most fearsome pitchers in the National League in recent years and he's continued that trend as he heads towards his prime. Throughout his career, he has proven to be a stronger pitcher in Los Angeles as opposed to the road. His opponents' bat .190/.233/.306 at home and compared to the road they slash at .232/.296/.387. Good numbers all around but it's clear how much better he is pitching at Chavez Ravine, it doesn't stop at the slash lines either.
Not only is Buehler terrific at not giving up many hits, but there's also the all-important DFS stats that you need to win some cash.
Having started 36 games at home and 38 on the road in his career, Walker has recorded 43 more strikeouts while facing the same number of batters at home. Not only that his control, in general, is higher as well, with 24 fewer walks over those same splits while also allowing 24 fewer hits and 54 Earned Runs as opposed to 80 on the road. There's no hiding that the success he has at home is significantly better than what he shows on the road. We can keep going, not only does he provide that for you, but Buehler can also throw more innings to get you closer into the green. Despite having two fewer games overall in Los Angeles, the young ace has thrown nearly 16 more innings.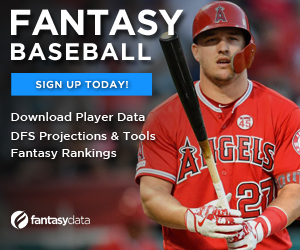 As for his opponent tonight, Buehler must go up against one of the better lineups in baseball to start the season, the Cincinnati Reds. Currently, top five in batting average, on-base percentage, and slugging percentage the Reds are to be reckoned with despite missing Mike Moustakas in recent games. Most of the success for the Reds has come at home, only winners of three out of their first ten road games there have been some issues producing at the same level. Losers of seven in their last eight games I expect this trend to continue. Walker Buehler is the safest of all the top starters going tonight, one walk so far this season, he throws the proper innings, he has an opponent that is struggling to win games now as well. A win, strikeouts, and going deep into this game is everything you need from a starter that will cost you $10,200 in your lineups!
This week we will change it up and heads toward a positional player and this time it will be the postseason hero of last season, Randy Arozarena. Priced in at $4,000 for tonight the electric star out of Tampa Bay will be facing off against Oaklands Frankie Montas. According to our optimizer, Randy is projected to have one of the best values on the board for the night with a value of 2.56.
One of the reasons for this is that he is slowly starting to hit the ball better within his last six games, he is posting a .409 average with four runs scored, four RBI's, and a stolen base. He faces off against a pitcher in Montas who has his fair share of ups and downs in the big leagues, this season he isn't a stranger to some of the downs. An ERA of 6.75 to start the year is the perfect type of pitcher for a guy like Randy to continue this mini hot streak of his. Montas is in the bottom 6% of MLB with a 16.7-barrel percentage, meanwhile Randy is in the top 9% of the league with an average exit velocity of 93.3. Randy is one of those hitters that can ruin a pitcher's night with one swing and recent games are showing that he can pull that off and especially against a struggling pitcher like Montas. Our optimizer is showing us that at the value of $4,000 there might not be a better all-around player near that price in the ever so expensive outfield. If you're having a tough decision around that price range, then you should consider the Tampa Bay star in this one.
Quick Links
STAY IN TOUCH
Sign up for FantasyData's newsletter and get awesome content sent to your inbox.
We'll never share your email address and you can opt out at any time, we promise.
---
Martino is a freelance writer for The Athletic for Soccer Sports Gambling and is also an Alumni of Iona College with a Masters degree in Sports Communications in Media. You can follow him on Twitter at @Martinopuccio.