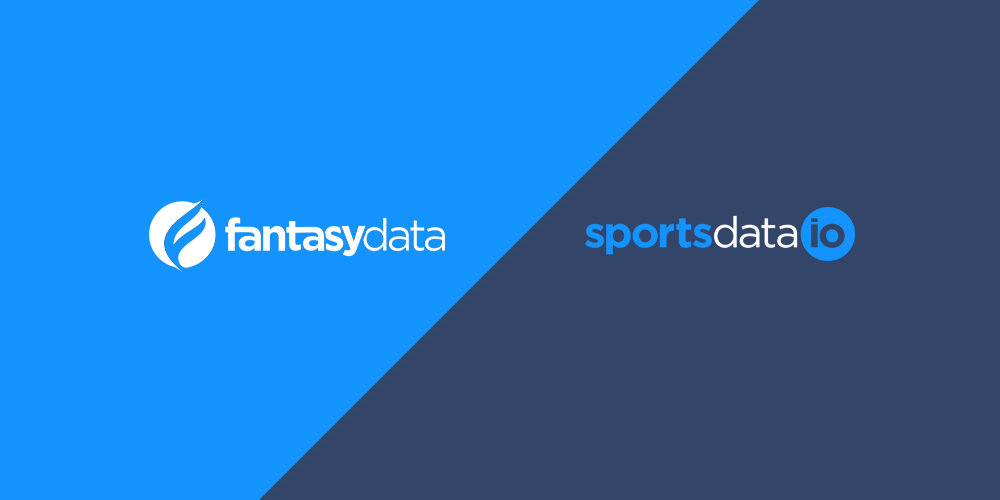 FantasyData API vs. SportsDataIO API
---
Sports API Comparison
In 2008 Founder and CEO, Scott Gimpel, architected and built an API for fantasy football players seeking to get an edge over their competition and have easy access to the mountain of data that comes as a result of the hundreds of NFL games played each year. The company first began as FantasyData.com and solely focused on NFL fantasy information. But as his client base grew year after year and the market demanded data for other sports, it was apparent that there was a legitimate need and opportunity to expand.
Slowly more sports were added to the API to meet growing demand. However, rather than the business being focused on "fantasy data," the API provided a more holistic view of sports data. Therefore, in 2018 FantasyData.com created a separate Business-to-Business branch of the company entitled SportsDataIO. Since that time, SportsDataIO has become one of the most popular and reputable sports data service providers in the industry, highlighted as the reigning FSGA Best Data Provider since 2018. New offerings have been introduced to SportsDataIO over the years such as a robust Aggregated Odds service, reliable real-time data, player headshots, and more. On the other hand, FantasyData.com stayed true to its roots by continuing to provide products geared toward individual users rather than commercial clients.
By having two separate branches of the company, SportsDataIO and FantasyData.com are able to effectively service all types of clients on a more personalized and individualized basis. Although having many similarities, the SportsDataIO API and FantasyData.com API have a number of differences that will be noted below.
SportsDataIO clients include Fanduel, The Action Network, The Athletic, Microsoft, and beyond. FantasyData.com API users are generally individuals seeking data for their own personal models, projects, and leisure activities.
The purpose of this article is to explain the difference between the two API options that our two companies provide. As you review and are interested in our individual (FantasyData) API option, please don't hesitate to send any questions to support@fantasydata.com. Or if your needs require a commercial business license, please reach out to our sales team at sales@sportsdata.io.
Differences In Endpoints
The two properties have noticeable differences within their respective endpoints. In brief, SportsDataIO is more robust and provides more granular data than FantasyData, providing as granular as real-time play-by-play data for a number of sports. SportsDataIO also contains more endpoints than FantasyData within the API, and within those same endpoints will contain more data properties. The images below highlight the noticeable different data properties within the NFL "Scores by Week" Endpoint for Week 1 of the 2020 Regular Season. The FantasyData data properties are shown on the left and SportsDataIO on the right.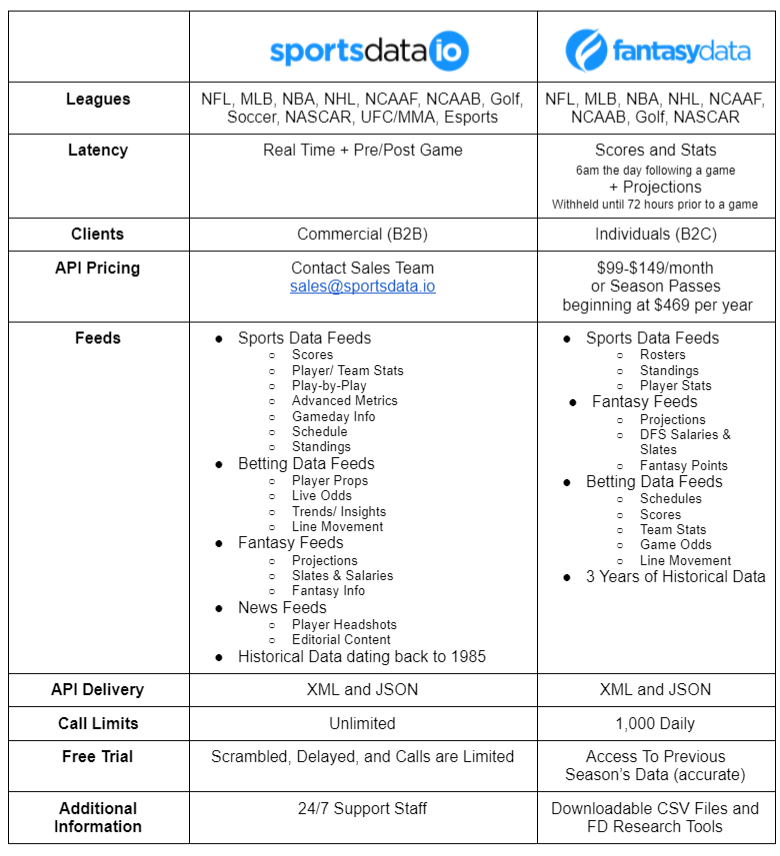 Highlighted in the SportsDataIO Endpoint are all the properties within NFL "Scores by Week" Endpoint for Week 1 of the 2020 Regular Season that are not included in the FantasyData API. This is just one example, within one endpoint, that yields noticeable differences between the two. We encourage clients to test these differences for themselves between both the SportsDataIO and the FantasyData Data Dictionary for the various endpoints within the various leagues.
STAY IN TOUCH
Sign up for FantasyData's newsletter and get awesome content sent to your inbox.
We'll never share your email address and you can opt out at any time, we promise.
---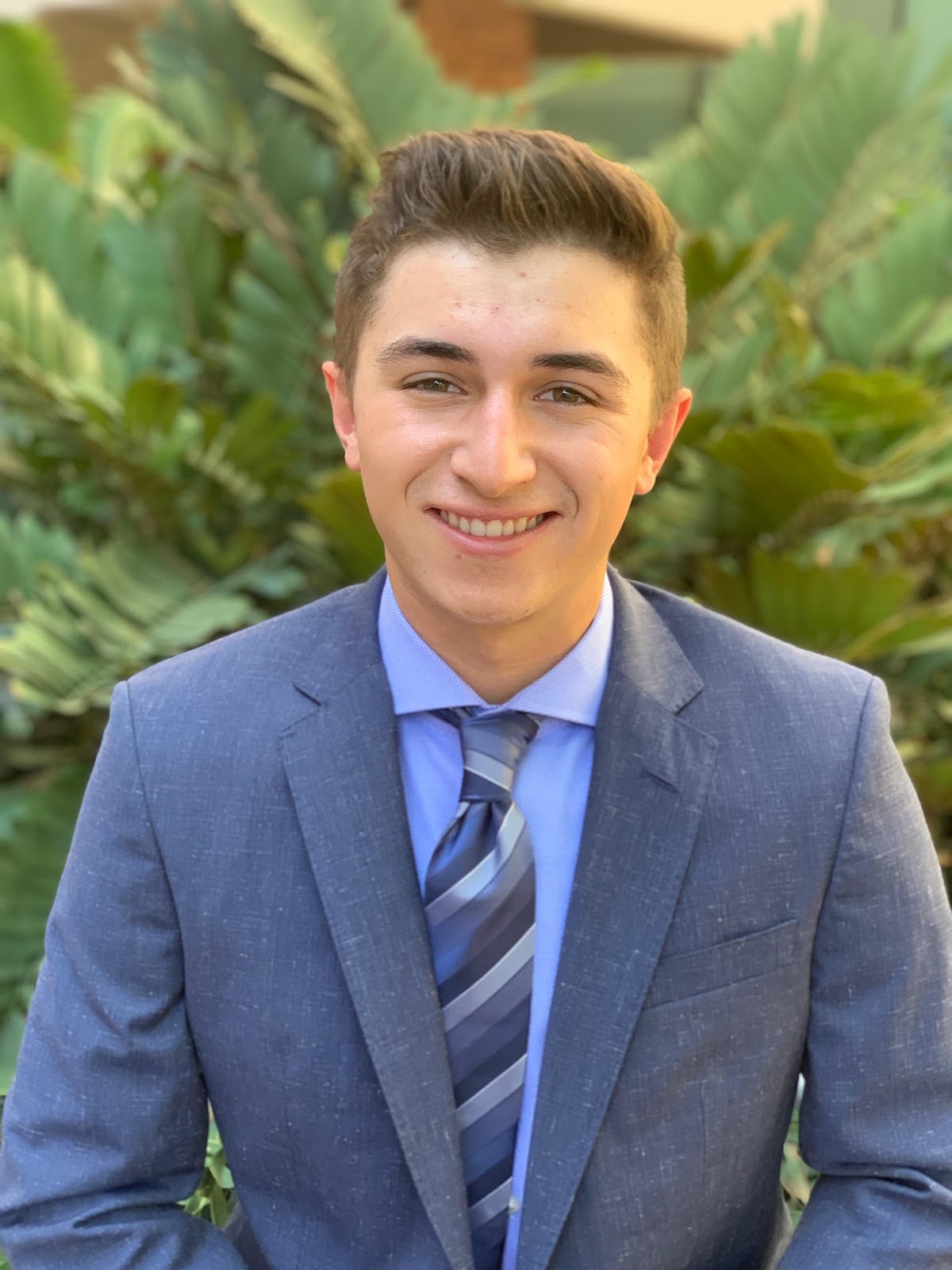 Sam Pearson is a Senior Account Executive for SportsDataIO and has been with the company since September of 2020. Sam currently resides in Phoenix, Arizona, but grew up in the suburbs of Chicago, Illinois. You can always find him catching up on the latest and greatest in the sports world, actively following the Cubs, Bears, and Blackhawks.