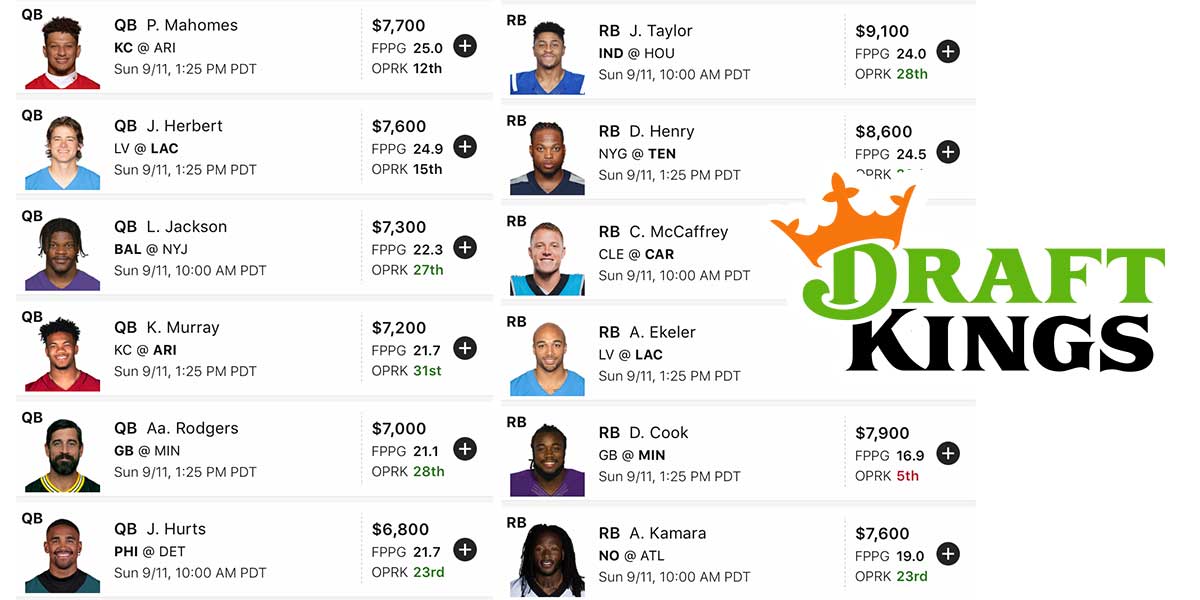 DraftKings Week One Salaries Drop: Early Preview & Hot Takes
---
DraftKings Week One Early Preview
The countdown to NFL preseason has begun. Training camps have opened up, and player news is trickling in. Soon we'll get the first look at this year's crop of NFL rookies, along with changes to offenses and a preview of the many players that have joined a new roster this NFL offseason.
DraftKings has released the player salaries for NFL week one. Of course, so much is going to change in the next four weeks; one injury will have a ripple effect that could shake up this entire slate.
FantasyData has a very early set of NFL projections out for week 1, these will be updated almost daily leading up to the start of the 2022 NFL season. However, I thought it would be fun to show a quick spin of an optimized lineup using our NFL Lineup Optimizer with no pre-settings or stacking.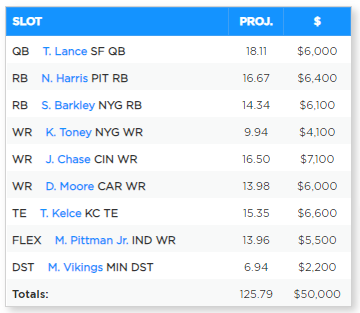 NFL Optimizer Quick Spin Results
Quick Spin: NFL Optimizer
Trey Lance getting the pick at QB is not surprising. With a $6,000 DFS price tag and having such a massive fanbase, I wouldn't be surprised if his ownership percentage is high in week one. The 49ers head to Chicago to play the Bears in the first week; San Fran is 6.5 point favorites, although the total points for this contest is only 42, meaning sportsbooks see a 24-17 kind of game. I tend to agree, and while Lance's price tag is nice, the score doesn't have a blowout vibe to it, but hey, you never know.
Najee Harris is also another value pick. He's the 12th highest-priced running back for week one but could easily finish as a top 5 performer. With Big Ben retired, it'll be interesting to see how the Steelers' offense operates in 2022. Najee has great hands and led all RBs in receptions last season. He should be a nice check-down target again in this offense for whoever gets the nod at QB for the Steelers. I would think he gets a large target share in this game and throughout 2022, but we'll have to wait and see.
There seems to be a lot of value with the New York Giants game. Saquon Barkley ($6,100) and Kadarius Toney ($4,100) wouldn't be my first pick when making a DraftKings Lineup for week one, but there could be shootout potential week one as the New York Giants take on the Tenessee Titans. The Titans are in a soft-rebuild mode after trading away A.J Brown but are more or less still just as competitive as past seasons. On the other hand, the Giants have a new head coach in Brian Daboll and a number of players coming off 2021 injuries. Both teams have the personnel to be dangerous but aren't getting the respect from sportsbooks books or most fans. This is a recipe for a high-scoring contest.
Ja'marr Chase ($7100) and Travis Kelce ($6,600) will definitely be popular in week one. I'm not surprised the NFL Optimizer added them to the lineup; both are top projected players in their positional category.
One of the most popular wide receivers this Fantasy draft season has been Michael Pittman Jr. from the Colts. He is viewed as a potential breakout player that you can get in the late 3rd and early fourth round that could outperform ADP. In DFS, he is the 24th most expensive wide receiver in DraftKings at $5,500. I like his price a lot more than I like DJ Moore at $6,600; both are great league players, but not guys I'm going to smash into my DFS lineup in week one. The Colts are a run-first team, and even though I know Matt Ryan is an upgrade over Carson Wentz, I just need to see their offense for a week or two before I add any Colt WR into my DFS lineup. The same can be said for DJ Moore. The Panthers QB situation seems bleak. I think I could find more reliable targets with the same cost.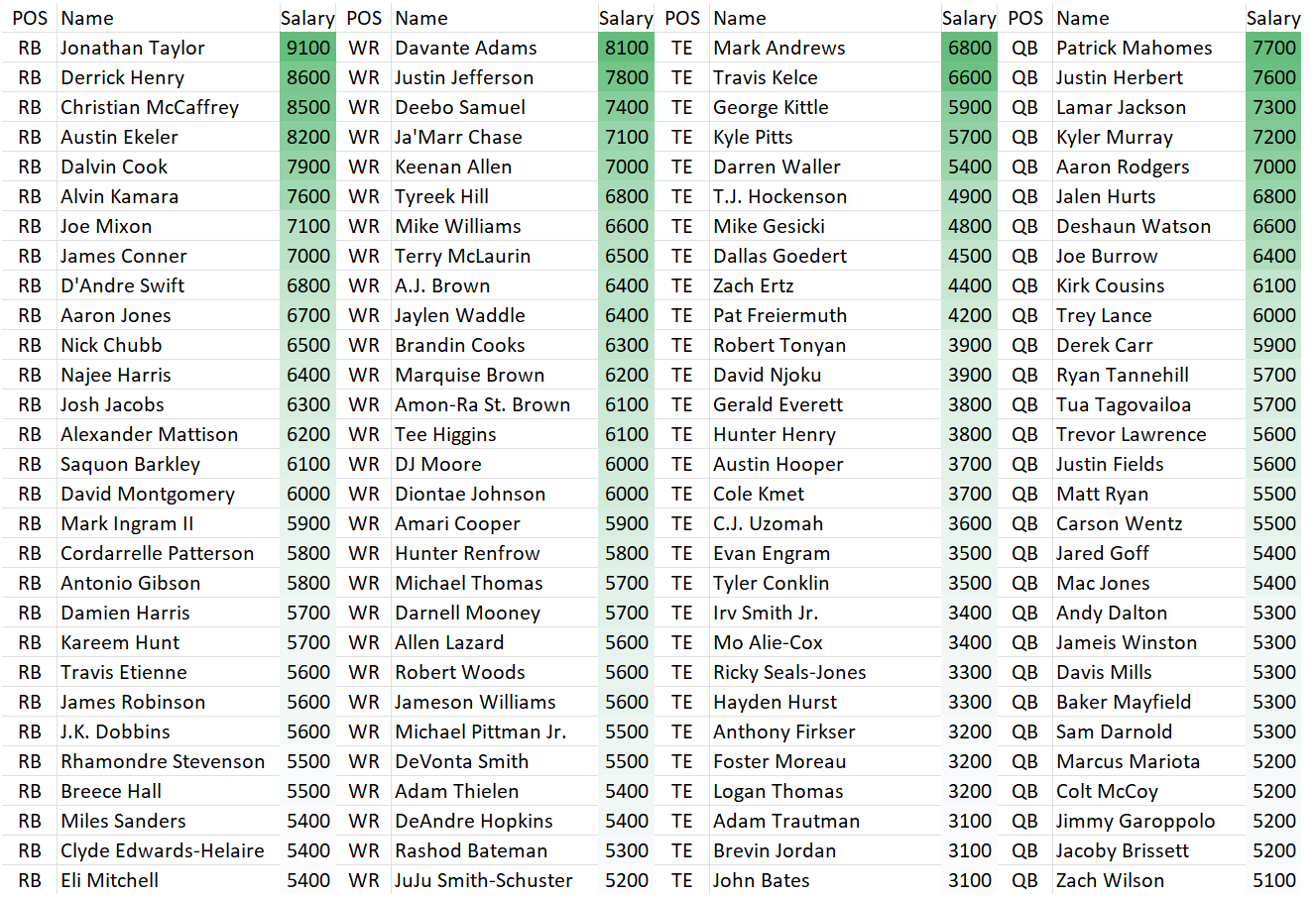 DraftKings Week One Top 30 Most Expensive Players
Year to Year Price Comparisons
The table above summarizes the top 30 most expensive players by position in week one at DraftKings.
I started looking at the DFS slates like this last year as I feel it gives you a different perspective on the slate overall. What stands out to me is the price of Quarterbacks. FantasyData has historical DFS salary data, and when I look back to last season, Patrick Mahomes was $8,100 in the first week of the season. One could argue that the price drop is correlated to the loss of his deep target Tyreek Hill.
Christian McCaffrey is practically free. Everyone is worried he won't be the same after his back-to-back years of injury problems, but if he's 100%, he's going to destroy this slate. Last year CMC was the top RB and cost $9,500.
It cost more for the elite wide receivers in last year's week one DraftKings Slate. Nine WRs cost more than $7,000, with Davante Adams and Tyreek Hill leading the pact in the 8K range. It's interesting looking back to see how much some players have dropped off. Adam Thielen, for example, was the 9th most expensive WR in DraftKings last year in week one; you can now get him this season for $5,400. Thielen had his biggest performance of the year in week one, racking up ten receptions for 92 yards and two touchdowns.
These are the kinds of things I like to look for when building a lineup. Sure Adam Thielen is getting up there in age, and everyone knows Justin Jefferson is the star on the team, but historically Thielen brings his A-game early in the season and when playing the Packers, which is who the Vikings are are playing in a week one. At $5,400, maybe Thielen makes a good comeback player in a Packers Stack. Or build it the opposite way by stacking Jefferson, Thielen, and Cousins with Aaron Jones as the comeback.

Adam Thielen two year recap vs. Packers
FantasyData Stacking Tool

FantasyData DFS Stacking Tool
FantasyData has a Daily Fantasy Stacking tool that helps you in the early stages when building a lineup. I always feel like this is a great starting point, as the goal of this tool is to find the best-correlated value in price vs. projections. Again... the week one projections are very raw, as I'm writing this on August 3rd, but it's fun to get a super early preview of the best stacking combos for week one.
I only screenshot the top three as a preview, it's you're interested, you can see more here. You can build stacking.
(Very Early) Best WK1 Stacking Combos
QB/WR - Burrow & Higgins (Combined $12,500)
QB/RB - Lance & Mitchell (Combined $11,400)
QB/TE - Hurts & Goedert (Combined $11,300)
DST/RB - Steelers & Harris (Combined $8,800)
QB/WR/WR - Burrow + Chase + Higgins (Combined $19,600)
QB/RB/WR - Jones + Barkley + Toney (Combined $15,200)
QB/RB/TE - Fields + Mont + Kmet (Combined $15,300)
QB/TE/WR - Image preview above
Popular Pages
STAY IN TOUCH
Sign up for FantasyData's newsletter and get awesome content sent to your inbox.
We'll never share your email address and you can opt out at any time, we promise.
---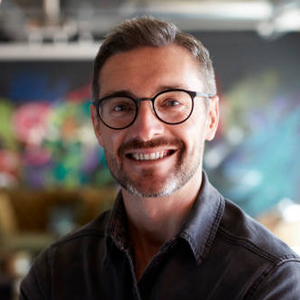 Derek is a long time sports bettor who grew up in Providence, RI. Derek is data driven and believes the key to betting the sportsbooks is finding an edge in analytics. Derek is happily married and has two young boys. Derek will bet on anything if you let him.