Fantasy Football Rankings: Week 12
---
Week 12 Fantasy Rankings
This article will showcase the FantasyData staff's Week 12 Fantasy Football Rankings along with commentary on players I'm higher on or lower on in my own personal rankings. We now have a few weeks of NFL action to build rankings and projections on. The advanced metrics and other resources available at FantasyData are invaluable when studying results in preparation for the upcoming week's slate of NFL games.
Before I jump into some quick notes about my personal fantasy football rankings for Week 11. I didn't finish in the top-10 for the week, but I'm still ranked 22nd in the year to date accuracy rankings. FantasyPros puts 150+ expert fantasy gurus to the test each week by measuring their fantasy rankings and score accordingly.
ECR- Expect Consensus picks at FantasyProsThis is my first year doing rankings specifically for FantasyData, my goal is to keep it up throughout the 2019 season. I'm excited to be one of the fantasy experts representing our organization in the competition. Without further ado let's dive in.
Fantasy Players, I'm Higher On
Derek Carr (QB) Oakland Raiders (QB6, ECR QB13)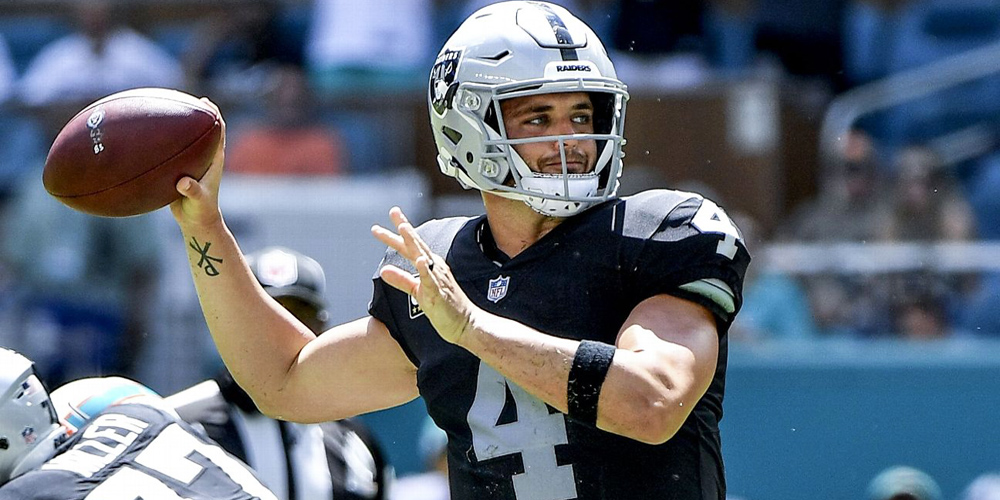 Carr has averaged 21.5 fantasy points per game with three QB1 finishes coming out of the Raiders Week 6 bye week. He ranks seventh in our true passer rating metric (106.5). This rating factors out unpressured throwaways and dropped passes. Carr and the Raiders face the Jets this week. New York's defense has allowed an average of 25 fantasy points per game to quarterbacks over its last five.
Sony Michel (RB) New England Patriots (RB17, ECR RB22)
Michel has now gone three consecutive games without a touchdown. He'll have a chance to get back on track this week against the Cowboys. The Patriots can exploit the Cowboys' defense by leaning heavily on the run. Dallas ranks 17th in Run DVOA according to Football Outsiders. Michel can be viewed as an RB2 this week.
Kenny Golladay (WR) Detroit Lions (WR14, ECR WR19)
Golladay will continue to be inconsistent with Jeff Driskel under center. The good news is that he's facing a Redskins defense in Week 12 that has allowed an average of six targets, 4.4 receptions, 78.4 receiving yards, and 0.4 touchdowns per game to top wide receiver scorers over the last five games.
Jamison Crowder (WR) New York Jets (WR18, ECR WR23)
Crowder continues to be criminally underrated this season. He's developed great chemistry with Sam Darnold and can continue to be viewed as a high-end WR3 every week. Here is what I said about Crowder in this week's Start 'Em Sit 'Em:
It is surprising to see Crowder's start percentage so low. He caught five of eight targets for 76 yards and one touchdown in the Jets' win over the Redskins. Crowder ranks sixth in true catch rate (91.4%) among wide receivers. This metric divides total receptions by total catchable targets. Crowder has become one of Darnold's favorite targets, he's accumulated at least 76 yards and a touchdown in each of his last three games. He faces a Raiders defense that has allowed an average of 8.6 targets, 6.6 receptions, 98.4 receiving yards, 0.4 touchdowns, and 19.2 PPR fantasy points per game to top wide receiver scorers over the last five games.
Tyler Boyd (WR) Cincinnati Bengals (WR28, ECR WR34)
Boyd's averaged 9.3 targets per game, but has not been able to capitalize considering he's only averaging 1.33 fantasy points per target. Boyd can be viewed as a high-end WR3 this week against the Steelers. Auden Tate could miss the rest of the season with a neck injury. Boyd and Joe Mixon will be the focal point of the Bengals offense.
Randall Cobb (WR) Dallas Cowboys (WR39, ECR WR51)
Cobb's averaged 17.9 PPR fantasy points per game in the last three since the Cowboys bye week. He's averaging 7.7 targets per game over the span of time. Cobb and the Cowboys have a difficult matchup against the Patriots defense in Week 12. He can be viewed as a low-end WR3 as Amari Cooper continues to deal with injury woes.
Fantasy Players I'm Lower On
Tom Brady (QB) New England Patriots (QB13, ECR QB9)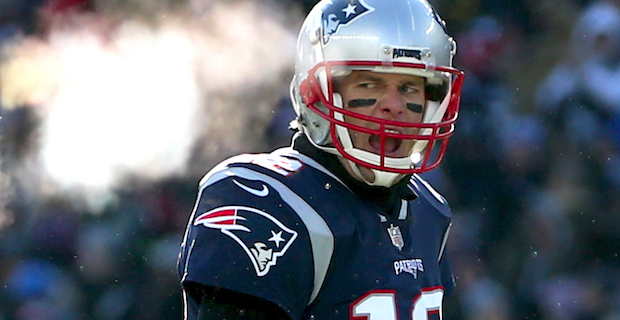 Is Brady showing his age this season? He's only averaged 15.6 fantasy points per game over the Patriots last four. New England hosts the Dallas Cowboys in Week 12. Brady can be viewed as more of a high-end QB2 against a Cowboys defense (217) that ranks eighth in fewest passing yards allowed per game
Dak Prescott (QB) Dallas Cowboys (QB14, ECR QB10)
Prescott has averaged 30 fantasy points per game over his last three. He also ranks third in deep-ball passing. This advanced metric tracks passing attempts that travel 20 yards or farther in the air. Prescott faces an elite Patriots defense. Here is an excerpt from this week's Start 'Em Sit 'Em:
The only quarterback to score more than 20 fantasy points against the Patriots defense over their last five games has been Lamar Jackson (30.25). The other four top quarterback scorers have averaged 8.24 fantasy points per game. Prescott has the ability, like Jackson, to create fantasy points with his rushing ability. It's highly unlikely that the Patriots defense will be exploited that way again.
Brian Hill (RB) Atlanta Falcons (RB30, ECR RB26)
Hill rushed 15 times for 30 yards in the Falcons win over the Panthers last week. He also had one reception for eight yards. Hill was ineffective against the NFL's worst run defense. Now he faces a Buccaneers' run defense in Week 12 that has allowed the second-fewest rushing yards per game (81).
Tyrell Williams (WR) Los Angeles Chargers (WR32, ECR WR20)
Williams hasn't scored a touchdown since Week 8. He's only averaging 5.4 targets per game this season. Williams is a touchdown-dependent WR3 against the Jets in Week 12.
Michael Gallup (WR) Dallas Cowboys (WR25, ECR WR18)
Gallup has double-digit targets in back to back games. He's averaged 20.7 PPR fantasy points per game over the last two weeks. Gallup should continue to see opportunities as Cooper, but I'd temper my expectations given the Cowboys matchup against the Patriots.
Bringing It All Together
You'll find my Week 12 rankings below. Do you agree or disagree with some of the analysis? What about how the players below are ranked? Reach out to me on Twitter (@EricNMoody) and let me know. Thanks for reading and don't forget to sign up for FantasyData Premium which will provide you access to our advanced metrics and other resources.
STAY IN TOUCH
Sign up for FantasyData's newsletter and get awesome content sent to your inbox.
We'll never share your email address and you can opt out at any time, we promise.
---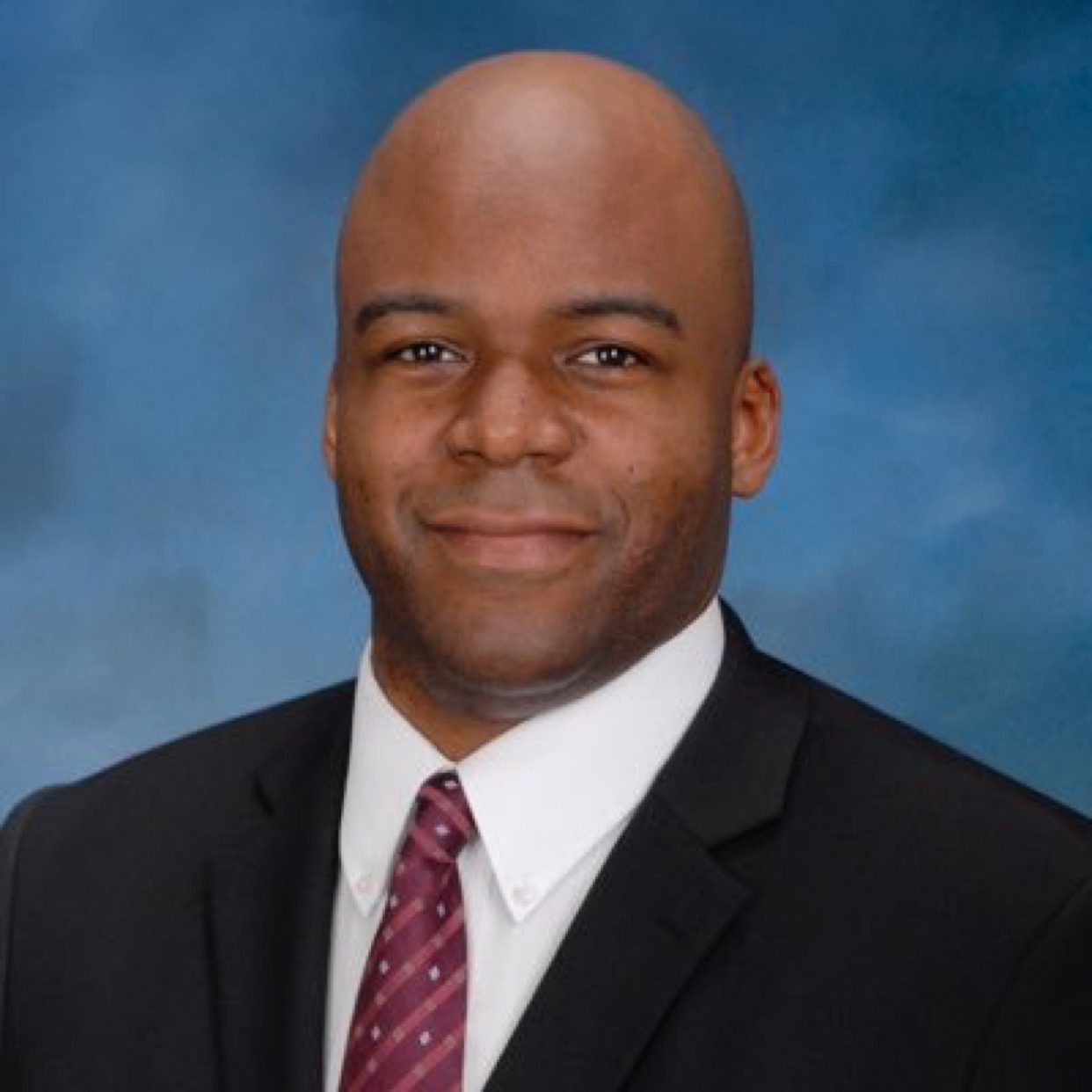 Eric Moody is a member of the FSWA (Fantasy Sports Writers Association). His writing has been featured at FantasyPros, Gridiron Experts, RotoViz, and TwoQBs. He has a lifelong passion for the game and even played at the collegiate level as an offensive lineman. Eric also participated in Dan Hatman's Scouting Academy in order to learn the process of player evaluation at an NFL level. When Eric provides advice, he uses game film, analytics, and statistics to help you understand his perspective. He enjoys time with his family, Netflix, music, bass guitar, and coffee