Week 15 DFS Lineup Construction Tips + Millie Maker Recap
---
DFS Lineup Construction Tips
Another fantastic week in Daily Fantasy Football. Someone (DraftKings player Fortyfortner) became a millionaire and based on the odds of it, it wasn't you. Don't feel bad. It wasn't me either. The goal of this article is to recap the DraftKings Millie Maker and attempt to breakdown why the big-money winners were big-money winners and hopefully, help you cash this week. Week 13, Derek Carr to Darren Waller and David Montgomery were keys to winning while a rare strategy of rostering two tight-ends was a success. This week, DFS players went back to the David Montgomery well and a few players implemented the dual tight-end approach, and once again, it was profitable. Let's look at Week 14 of the DraftKings MillieMaker, get inside the elusive monster, and see how the sausage is made.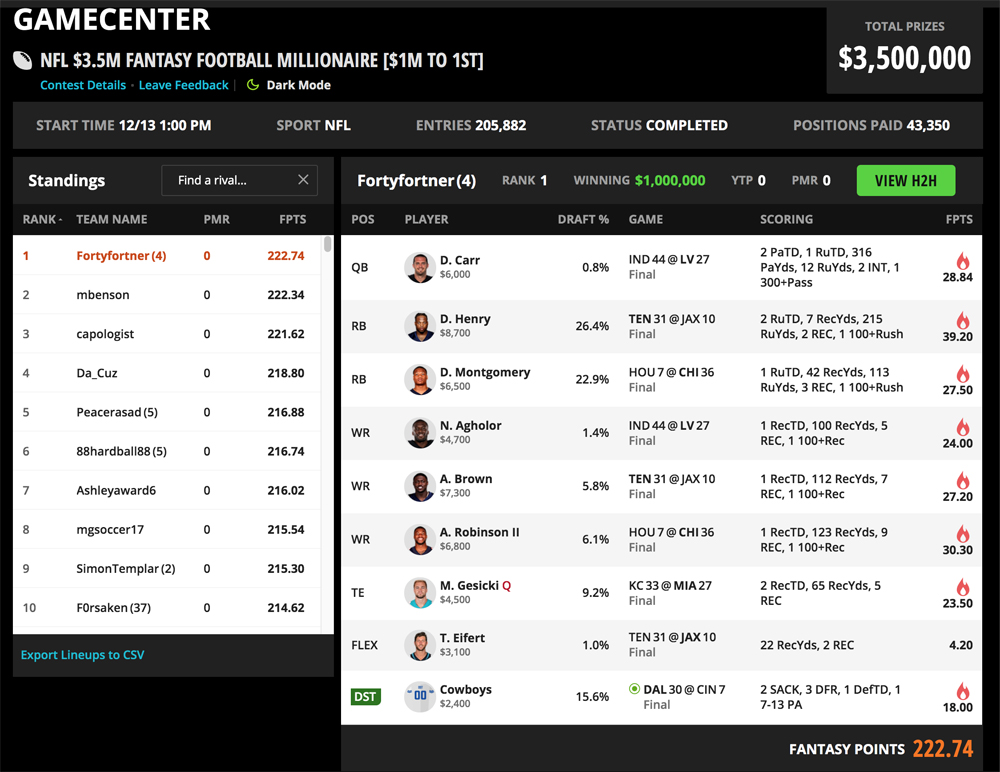 Roster Construction Strategies
There were four key players that appeared in nine of the Top Ten finishers in Week 14's DraftKings MillieMaker. Here they are.
| | | | | |
| --- | --- | --- | --- | --- |
| Player | Position | Price | Roster % | Fantasy Points |
| Derrick Henry | RB | $8,700 | 26.4% | 39.20 |
| David Montgomery | RB | $6,500 | 22.9% | 27.50 |
| Travis Kelce | TE | $7,400 | 12.7% | 30.60 |
| Mike Gesicki | TE | $4,500 | 9.2% | 23.50 |
These four players were the core of almost all of the top finishers in the Millie Maker but there isn't an easy way to correlate them so that we can replicate it in Week 15. Kelce and Gesicki played against each other but they weren't used in a "stack with a bring back" strategy. One Top finisher did stack Gesicki with Tua Tagovailoa, but that player didn't bring it back with Kelce - or any Chief - and only one of the top finishers stacked the Kansas City Chiefs, as a mini-stack, and it was without Patrick Mahomes. Henry, Kelce and Gesicki all played in games with Over/Under totals of 50+ points while Montgomery had an O/U of 46.5. Kelce and Gesicki played in a high scoring game where both the Chiefs and Miami Dolphins produced a lot of Fantasy points, but the Tennessee Titans blew out the Jacksonville Jaguars while the Chicago Bears held the Houston Texans to seven points and a combined total of 43. Road/Away didn't even correlate. The Titans and Chiefs played on the road while the Bears and Dolphins played at home. Three of the four were played in Florida with warm weather but the Bears game was in Chicago. Derrick Henry and David Montgomery had high roster percentages while Kelce and Gesicki are Tight Ends so it's difficult to say they were pivot plays. You could argue Gesicki was a pivot off Kelce and the other Chiefs, but it's a weak case and A.J. Brown and Tyler Eifert were technically pivot plays off Derrick Henry, but that was only one of the top finishers - even though it happened to be the Top one - and Eifert didn't produce. I'm not stacking and building the core of my lineup for Week 15 around pivoting a tight end off of the Chiefs or whether a group of my players are playing in warm weather or Florida specifically, so it would appear that Week 14 won't be all that enlightening when it comes to these four core winning players.
Two-Tight End Strategy
The top finisher (Fortyfortner) with 222.74 Fantasy points (a .40 margin of victory over second-place) won with both Mike Gesicki ($4,500) and Tyler Eifert ($3,100) in his lineup. The contrarian strategy of rostering a Tight End at the Flex position rather than a Chalk wide receiver or running back was a winning one in Week 13 and while it was used in Week 14 and won, it wasn't a key strategy as much as an effective aspect of his winning approach. We saw this approach in Week 13 and I suspect that led to it trending a bit in Week 14 too. It was effective this week, not because the trend is a good one, but by rostering a $3,100 punt play that was more or less a bust (4.20 Fantasy Points scored), it allowed Fortyfortner to invest in four players of $6,500 or more at other positions. A "Stars and Scrubs" strategy is a popular one but it's not necessarily the best one in the MillieMaker because it puts an extreme amount of pressure on DFS players to hit big on low-percentage long shots to payoff. Chad Hansen of the Houston Texans ($3,100 at 9.1% roster percentage) was one of those popular punt plays and he did score 12.60 Fantasy points, but it's difficult to hit big on two or three of those in one lineup and if you apply the "Stars and Scrubs" approach, you will have to. And, the value of these punt plays is often diminished because analysts like myself highlight these punt plays so that by kickoff they often aren't the "sleeper" that a true contrarian play needs to be. Gabriel Davis of the Buffalo Bills was a good example of that in Week 13. Cheap, increased target share, and a good matchup, but EVERYONE knew about him. Fortyfortner didn't have to fully commit to a "Stars and Scrubs" lineup because he invested so little at Flex and that in and of itself was contrarian in comparison to the majority of the DraftKings MIllion Dollar contest field. I'm not against rostering a Tight-End at Flex, especially when Travis Kelce is one of those plays, but the $$ savings is why it's been working. If one of the two Tight Ends don't have a huge day, the strategy busts. Waller did in Week 13, Kelce in Week 14. Week 15. Let's take a look.
Week 15 Two-Tight End Strategy Plays
In order to apply the "Two-Tight End" strategy, you're going to have to score big with one of the plays and save money, probably on the other. The way that you do that in Week 15 is this:
Travis Kelce: Kansas City Chiefs - $8,000 vs. New Orleans Saints (7th best at Points Allowed to TE's in Fantasy Scoring)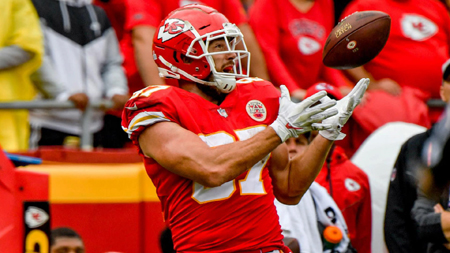 Kelce is a monster performer and he is priced like one too. He is the sixth most expensive player in ALL of DraftKings Fantasy for Week 15. He is $100 more expensive than Patrick Mahomes and more expensive than Alvin Kamara and DeAndre Hopkins. To win big with this strategy, priority one is to hit it huge at TE1 and Kelce is always the most likely bet to do that. However, there is an alternative. It's hedging your bets, but it allows you to fit in some of the other ingredients you're going to need to win it big.
Mark Andrews: Baltimore Ravens - $5,500 vs Jacksonville Jaguars (22nd worst at Points Allowed to TE's in Fantasy Scoring)
Andrews is $2,500 cheaper and 2/3rds the salary of Kelce, he has fewer competitors for touches and he has a significantly better matchup. Baltimore's game has an Over/Under of 47.5 while the Chiefs is at 51 1/2, but that's not as impactful as the other potential factors. The risk is that Andrews doesn't have the skill set that Waller and Kelce do. Andrews doesn't have a 100+ yard receiving game in 2020 and he's only scored in four games. Kelce and Waller are basically wide receivers that run tight end routes against defensive personnel that typically cover tight ends and often badly at that. T.J. Hockenson, Rob Gronkowski, Logan Thomas or Tyler Goedert could be that monster Tight End but they are all unlikely as well. None of them have shown the likelihood to have a 100+ yard receiving day and without that, they will need three or four touchdowns. Andrews is one of the few viable options in a Two-Tight End strategy if you wish to fade Kelce, but I don't recommend it. If this is the way you want to go commit to it and roster Kelce.
To apply the Two-Tight-End strategy as it has been applied in Weeks 13 and 14, Travis Kelce at $8,000 has to be your anchor. He's expensive and his roster percentage is likely to be in the double-digits due to his recent success even though the Saints are a less than optimal matchup, but he's your only real shot at the 100+ receiving yards you need to make this approach work. The second prong to this approach is more lucrative. An inexpensive or punt play that produces at least a little bit but more importantly, provides salary relief to spend elsewhere. You're already spending up for Kelce, so spend down here and venture out for the other pieces to your million dollar pie. The Tight End position basically boils down to this in the 2020 NFL; If they score a touchdown they were a great find that week. If they don't, at least everyone else stunk too and they were cheap anyway. Here are a few that qualify and could be your guy.
Cole Kmet: Chicago Bears - $3,000 @Miinesota Vikings (Rank 15th in Fantasy Points allowed to Tight Ends)
Kmet is young, has a pass-catchers skill set to some degree and he is growing into the Bears offense. He has been targeted seven times in back-to-back games and he scored a touchdown two weeks ago. I like Jimmy Graham and his experience better but his targets have cratered while Kmet's are increasing, which means the Bears don't agree with me and they are the ones calling the plays and making the decisions. The price is right and the matchup is solid. I like Kmet this week even if you don't use the Two-Tight End strategy and at $3,000, the price is very much right.
Gerald Everett: Los Angeles Rams - $3,100 vs. New York Jets
Everett has the wide-receiver "like" skillset to have a big day in receiving yards and his price fits our parameters, but he hasn't had the targets or the touchdowns to feel good about rostering him. He's had two games of five targets or more and one of 44 yards or more and only one with a touchdown. As your "money-saver" TE in the Two-Tight End strategy, he fits because of the price but he isn't a good option to produce. Tyler Higbee is the Rams #1 Tight End, Robert Woods and Cooper Kupp are far more popular targets and Cam Akers is emerging as a Top Tier running back. None of this bodes well for Everett. I like his skill set and the price is right for this approach, but he isn't a good option. The one saving grace is that for this strategy to work one of your Tight Ends needs to have a 100+ yard receiving game and Everett is more WR than TE than a lot of the other punt plays or even most of the chalk ones. It's his only redeeming quality and that's why I profiled him here. The same argument can be made for Jordan Reed.
Dan Arnold: Arizona Cardinals - $3,500 vs. Philadelphia Eagles
Arnold is tied for the most touchdowns by a Tight End over the last four weeks with four and while his price isn't a true punt play, it qualifies as cheap or at least affordable. Tyler Eifert was $3,100 and provided 4.20 Fantasy points. $3,500 is more, but he is clearly a red zone target for Kyler Murray right now and every TD is worth six, so you do the math. The downside, over those four weeks he has basically been red zone or bust. 12 targets, six reception and 109 receiving yards. Six receptions and four touchdowns. That means he has two receptions outside of the red zone in four games. He is truly a touchdown-or-bust play and at $3,500, that is actually expensive. But, in a world where almost all of the alternatives live or die by the touchdown, Arnold rates high. In a Land of The Blind, The One-Eyed Man is King, as they say.
Fortyfortner invested $7,600 for his two Tight Ends on the path to winning a million dollars while the fourth-place finisher stacked Kelce $7,400 and Robert Tonyan $4,200 for $11,600 and a $50,000 dollar payout. Stacking Kelce and Arnold fits the parameters for a Two-Tight End strategy where a huge game and an affordable price are required and at $11,500, it cashed big for one player in Week 14. If I was going to use this strategy I would invest in Kelce and Kmet, but Arnold isn't a bad alternative option. Kmet provides more outs, but Arnold does highlight a path to victory.
Week 14 DFS Trends: Chalk and Not
We have seen throughout the entire 2020 NFL season that chalk at both RB1 and WR1 are almost a requirement and while that almost guarantees a high roster percentage, to win big money you need big production and chalk is the safest way to guarantee that. However, chalk isn't how DFS players differentiate themselves as they widdle down from cashing in to winning big in the MillieMaker. It does keep them in the game though. We saw that in Week 14 at running back and Tight End, but not wide receiver, quarterback or defense.
| | | | | |
| --- | --- | --- | --- | --- |
| Player | Position | Price | Roster Percentage% | Fantasy Points |
| T.Y. Hilton | WR | $5,100 | 7.7% | 25.60 |
| Allen Robinson | WR | $6,800 | 6.1% | 30.30 |
| Nelson Agholor | WR | $4,700 | 1.4% | 24.00 |
| Chad Hansen | WR | $3,900 | 9.1% | 12.60 |
| Dallas Cowboys | Defense | $2,400 | 15.6% | 18.00 |
| Washington Football Team | Defense | $2,800 | 6.0% | 23.00 |
It's a little surprising to see such a low roster percentage for Nelson Agholor considering how well DFS players did rostering Raiders in Week 13 and with a point total of 52. But, the Indianapolis Colts weren't seen as a strong matchup for Carr and the boys and Agholor has been sporadically effective this season. It helped win big on DraftKings this week and it is easy to see how he popped up often in the big money winner lineups. All of these players appeared in at least three of the Top 10 finishers lineups in the 3.5M DraftKings Million Dollar contest and none can be considered chalk. Eight of the 10 top finishers had either the Cowboys or Washington Football Team defense, T.Y. Hilton appeared in five of the ten top finishers and Allen Robinson, Nelson Agholor and Chad Hansen were all rostered on three of the top 10 finishers in the Millie Maker. Eight of the ten top finishers had a Tight End that priced at $4,500 or less and in four of those cases it was as a Flex play. That provided a lot of flexibility for the top winners to find high-percentage plays to produce the kinds of big performances needed to finish in the 210+ point total needed to win upwards of $12,000 to $1,000,000. Five of the Top 10 finishers went chalk with Travis Kelce and eight of the ten either followed that up with a cheap Tight End in the Flex or faded Kelce, invested $4,500 or less at Tight End and spent elsewhere at Flex.
Week 14 was the week of Chalk at Tight End and Running Back, but not so much at other positions. None of the top finishers rostered the most expensive wide receivers (Davante Adams, D.K. Metcalf or DeAndre Hopkins for example) or defense and while Justin Herbert and Aaron Rodgers were sprinkled in amongst the top finishers, quarterback was a mixed bag and was mostly affordable plays.
Here is a mix and mash of Week 15 plays that fit into the trends we saw in Weeks 13 and 14.
Let's start Chalk at the running back position.
Jonathan Taylor: Indianapolis Colts - $7,200 vs. Houston Texans
In order to win big money you need big production and at running back, it's not easy to find that cheaply. Jonathan Taylor did it at $5,800 with a 13% roster percentage last week and I think he is the best bang for your buck in Week 15. Taylor is the fourth most expensive running back and while he is only $7,200 (up $1,400 from last week), he has to be considered chalk because he is the fourth most expensive, in a juicy matchup against a Houston Texans run defense that gets shredded by everybody. His roster percentage will be huge, but his price is still reasonable considering the opportunity for a smash game and for our formula. He fits the bill as a viable play for the million-dollar prize. However, spending up for two running backs may not be in the cards, especially if you want to implement the Two-Tight End strategy and roster Travis Kelce. I believe that Taylor is the best RB playoff the week, but he isn't necessarily the best smash play. That is: Derrick Henry.
Derrick Henry: Tennessee Titans - $9,500 vs. Detroit Lions
Henry was in a great spot and took advantage in Week 14 while he was a bust for DFS players in Week 13. So, does he bring it big in Week 15 in a fantastic spot? I suspect he does. It will cost you, his roster percentage is likely to be hugely high, but if all you care about is big-time Fantasy point production Henry is the best bet this week. I think DFS players get better bang for their buck with Taylor in a comparably friendly matchup, but Henry is the odds on favorite to be the best running back and the most highly rostered in the DFS game again this week.
Dalvin Cook: Minnesota Vikings - $9,000 vs. Chicago Bears
Cook is a beast and if DFS players want to run him out there then by all means don't let me stop you, but his price and the matchup don't provide a lot of value in this spot. He could struggle to have a good game, nevermind a huge one and that is a killer if you want to cash out in the big time. Derrick Henry was nowhere to be found in Week 13 amongst the top finishers and that could easily be Cooks story this week. To win the million dollars you need a huge day from your chalk play and the Bears defense isn't the best place to go looking for it. At such a high price I want nothing to do with Cook this week in DFS or even cash games.
After Cook at $9,000 the prices drop significantly for the next tier of running backs and while I labeled Taylor Chalk, his price really isn't a totally accurate representation of what chalk is. Same goes for Alvin Kamara at $7,400. He is the third most expensive RB, making him technically chalk, but the price makes me reluctant to call him that either. I am fading Kamara, chalk or not, affordable or not, because of what that Saints offense has been with Taysom Hill under center, but if you are going to use the most recent formula for winning the million bucks, you need a top tier RB and for me, it's Henry and Taylor and nobody else is close.
Filling It Out - Roster Construction in The MIllie Maker
I talked about chalk at running back and tight end, the Two-Tight End strategy and now it's time to provide some names to like at quarterback and defense. The trend in recent weeks if you want to win the million dollars is to not spend on a defense and don't roster a popular or expensive quarterback. Derek Carr has been a hero in back-to-back weeks and the Cowboys, Washington Football team and the New England Patriots have all contributed to winning a million dollars while spending less than $2,500 to roster them. Here are some options that fit those criteria for this week.
Wide Receiver - Quarterback and Defense
You don't need to go chalk but you do need to spend at wide receiver. The list is long and other writers have done this for you, so let's move on to quarterbacks and defenses and I suggest you listen to @CJMitch73 and Peter Gofen @PeterJaguars on the SlateBreakers Podcast for our individual targets and fades. Let's move forward and address Quarterbacks and Defenses based on the DraftKings MIllion Dollar contest trends.
Quarterback
Lamar Jackson, Tom Brady and Ryan Tannehill have the best matchups of the week and both Brady and Tannehill are affordable, making them ideal for winning the million dollars based on our formula. Both have point totals of 49 1/2 or higher, both have juicy matchups and Brady has very good bring back options with the Falcons if you want to implement that as part of your roster construction strategy.
Tom Brady: Tampa Bay Buccaneers - $6,600 vs. Atlanta Falcons
Brady has been good with the touchdown passes but inconsistent with the passing yards and bad with the interceptions. To win the million dollars you need to score in the mid-20's or better at QB and Brady has been unable to do it consistently. Six for 13 of 20 Fantasy points or more and only two 30+ point games. Not inspiring. The Falcons aren't a good defense but they have been better lately. This one could be a bust for Brady and I am afraid he won't be a rare pick in tournaments. He's affordable and the matchup looks poultry, his roster percentage could be near 10% or more and that's not good if you want to differentiate yourself from the Millie Maker pack. Even worse if he busts.
Ryan Tannehill: Tennessee Titans - $6,700 vs. Detroit Lions
Great matchup, affordable price, likely a low roster percentage, and a natural pivot off of Derrick Henry who is likely to be the most popular play in DFS this week in a game with an Over/Under of 50+. It's understandable to be afraid of rostering a player that needs to steal points from Derrick Henry, his enormous workload, and his stampede to be a 2,000 yard rusher, but the conditions are there. Tannehill, maybe Jonnu Smith, A.J. Brown or Corey Davis. A lot of options here. He checks all the boxes.
Defense
In recent weeks on DraftKings we have seen that you don't need to spend big to win big, but you do need a defensive touchdown and when the winner typically wins by less than three points and often times less than one, you need a quality scoring defense. Completely punting the position is not an option. You need to pick a cheap or affordable defense that can score well. Here are the best "affordable plays" for Week 15:
Washington Football Team: $2,600 vs. Seattle Seahawks
The Seahawks are seen as an explosive offensive team but they haven't been quite as good lately and Russel Wilson has been helping the opponent rack up interceptions in the process. He's thrown an interception in six of his last nine games and in three of them he threw two or more. And, the Seahawks have scored 23 points or less in three of their last five games as well. The Washington Football team has touchdowns in two of their last three games, an interception in four straight and four sacks or more in three of their last four and five of their last seven. Don't let the early season offensive craziness of the Seahawks scare you away from paying for the sixth cheapest defense in the Week 15 slate. They were popular in the high-payout lineups in Week 14 and they are the best affordable option in Week 15.
New England Patriots: $3,000 @Miami Dolphins
I am in on the New England Patriots because their special teams have been great lately, they have an above-average secondary and they have been extremely good at bewildering rookie and inexperienced quarterbacks under Bill Belichick. If I was a betting man I would be betting the Dolphins, but in DFS it's a different calculation and I can see how the Patriots defense scores well here. I also think the Dolphins can have a good game but they are significantly more expensive at $3,700 and there is risk that Belichick outcoaches his ex-Defensive Coordinator and the Dolphins fall flat. If that happens, say goodbye to your Million Dollars.
STAY IN TOUCH
Sign up for FantasyData's newsletter and get awesome content sent to your inbox.
We'll never share your email address and you can opt out at any time, we promise.
---
Chris Mitchell began his Fantasy Sports Writing/Podcasting career with RotoExperts.com, writing about Minor League Prospects, Fantasy Football and Baseball. He won a 2017 FSWA award for "Best Comedy Article" and was Nominated for "Best Fantasy Podcast" in 2018. He has worked as a freelance writer and season-long contributor to BaseballAmerica.com and as a Daily Fantasy Sports analyst for Fantasydraft.com. His content has appeared in a multiple of outlets like The AP, The New York Daily Post, USAToday, Fantrax.com and more. He is President of Bosco Nation, where his Podcasts can be found BlogTalkRadio